The concept of comfort food is a well-established one. When we're sad or hurt, we eat things that bring us joy like macaroni and cheese or the cookies we loved as children. But does that extend to other areas apart from food? For me it does.

I don't know about you, but when I'm not feeling well or when something's got me down, I gravitate toward certain types of clothing, specifically the softer, more comfortable pieces. I know I'm not alone in this. I've had it corroborated by others. And, in a televisual example, powerful chick Buffy the Vampire Slayer always opted for loose, baggy clothes when she had something to be down in the dumps about.
| | |
| --- | --- |
| | |
| Buffy is chased by high-powered assassins. | Buffy leaves home after killing her boyfriend. |
(Screencaps from Screencap Paradise)
See… overalls… flannel shirts… comfort clothes.
As far as I'm concerned, I don't opt for the baggy shapeless necessarily, but the soft and cozy is key.
But I've never really thought about comfort footwear in that same scenario. The best I can come up with is Uggs.
There's no way you can claim that this Ugg Sunburst Tall boot isn't warm, soft, and cozy.
And at home, you've got the option for slippers, which are definitely the mother of all comfort shoes. Like these Ugg Roo slippers.
But for summer, this is a bit more challenging, since fewer things come in those soft and cozy trappings. Ugg has a whole line of summer shoes now, which are lined in sheepskin, and which I must admit have been intriguing to me. Like these Crawford loafers which are pretty classic and classy.
Or these Newport sandals , which would probably rub a lot less than your average leather-strap sandal.
As far as other options of sheepskin-lined shoes, I can think of these Leopoldo Giordano wedges, which I saw on the street in another color and which are seriously adorable. They're still available at Bluefly in a US 6.5 or 7.5 for only $140, down from $350.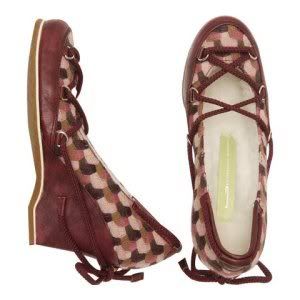 What are your comfort shoes?