Much like Shoesense has realized that her shoe wardrobe doesn't contain that eternal summer basic, the espadrille, I have realized that mine doesn't have a good basic brown sandal.
Now, as we all know, this is a complicated decision, as there are thousands of brown sandals out there. So what am I looking for? Several key characteristics:
good walking support
dressy enough to wear to work (business casual environment), with skirts, etc.
interesting design–not just your basic brown leather strap across the toes, strap around the ankle model
fairly low heel (2" or under)
no thongs
See? Not easy!
So, what have I found so far? Well, Shoes.com has been quite helpful in providing this Stonefly Eden slip-on for $120.
And they have these funky Paul Green Storm ankle-strap sandal for $220 which does the gladiator look without being too over the top.
Of course, there's the classy Taryn Rose Voy sandal for $310 at Zappos, but I think it's actually a little more basic style-wise than what I'm after.
The jury's still out on the styling of the Think! Ying sandal (on sale at Zappos for $178), which is cute (and based on the Think! shoes I already have, incredibly comfy) but may be a bit too Western for my taste.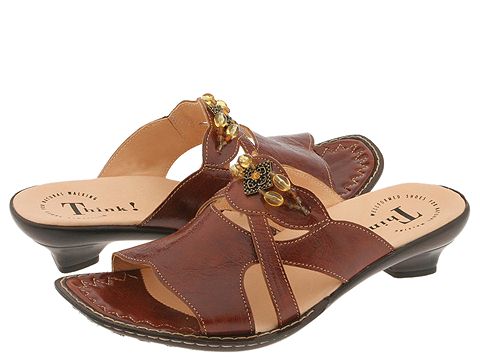 And winning the price competition is the Cole Haan G Series Layne slip-on (on sale for $100), which I love, but I think is a little too sporty to be quite as versatile as I'm after.
Decisions, decisions. Isn't shoe shopping difficult? Aren't our lives hard?