posted by: shoesense in High heels on April 17th, 2007
Hey, you career women who *must* wear heels at the office and look prim and proper for the all-important executive meetings to report on the quarterly sales of your department? Yes, I'm talking to you. Don't your feet just KILL you after a day of strutting around in sharp pointy heels? Seriously! Didn't you wish you could slip into something more comfortable without anyone noticing?
Well, now you can! Camileon Heels have patented a two-height heel that can be snapped up or down for your convenience. Now, you can wear a style like this classic navy Mary-Jane two ways–like this:
or like this: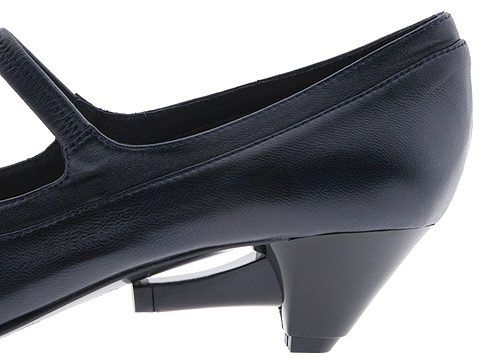 Quite ingenious, no? On the downside, all the styles are career/office-oriented, so pretty tame and unexciting, though thoroughly work-safe; also, the prices are pretty high (around $300). On the upside–well, you get two shoes in one, and you needed a career shoe anyway, right?
I don't know how well they're made, but hey, it's a swell idea.