Archive for the 'Camper Shoes' Category
Well, I'll likely be away from my computer tomorrow for actual St. Patrick's Day, but Shomore's green shoes thread on the forums inspired me to combat the nasty mixture of sleet, freezing rain, and snow that is once again falling from the New York skies with some more fun green shoes. Green is a great color to me. I can wear it pretty easily, and it always makes me happy in a calm, peaceful sort of way (as opposed to say orange, which makes me happy in a one-too-many-lattes sort of way). So, here are some more shoes in lovely shades of green. Make sure to check out Shomore's thread, too. There are some prime luck o' the Irish colored shoes that way.
Check out the Jeane by Lacoste shoe. This adorable hybrid that combines all the charm of the canvas sneaker with the femininity of a slingback platform wedge. Snag it for $154 at Zappos.
Hit your local Irish pub for some communcal cheer in these metallic ankle strap sandals from Donald J Pliner ($202 at Zappos).
Frolic in the shamrock fields in these $125 adorable Princess flats from M by Morenatom (a great brand that I'll have to do an entry about sometime soon).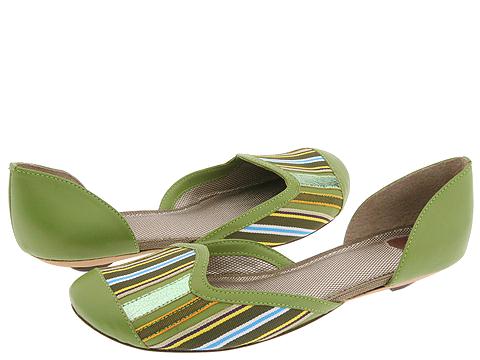 Feeling like an old-fashioned Irish lass? Go for these vintage-flavored Camper Twins wedges. Just different enough to be unique, and available for $145 at Nordstrom.
If you're after the award for "Most St. Paddy's Day Spirit," you might want to go with these green Check Mate flats by Poetic Licence. Green upper AND a green bow for trimming. And only $65 at Nordstrom. Erin go bragh indeed!
Here's this week's Spot the Shoe on Sale: this unassuming pair of burgundy loafers from Camper, the 'Boys and Girls' style (from the Twin collection). Two inch heel, nappa leather upper, rubber sole, suede decorations. Regular price is about $150. Today you can find them as follows:
And the winner is:
Happy bargain hunting out there, you shoe lovers!