Archive for the 'Celine Shoes' Category
posted by: shoesense in Celine Shoes, Christian Louboutin Shoes, Cole Haan Shoes, Fall 2008 Shoes, Givenchy Shoes, High heels, Kate Spade Shoes, L'Autre Chose Shoes, Marc Jacobs Shoes, Nine West, Shoe Trends, Tod's Shoes, Tory Burch Shoes, Yves Saint Laurent (YSL) Shoes
One of the must-have items of the season is, apparently, the good ol' penny loafer. I'm all for that: school season is knocking on your neighborhood's door, and even if you're not in or around a school at the moment, you must feel the buzz of books and the studious energy in the air. No? It must be me, ahem; still, you are probably seeing a preview of collegiate fashions by now. And if you indulge one of my pet peeves for just a second: I for one would LOVE to see young women sporting an elegant, well-made penny loafer rather than a flip-flop way into November, as I often see, and which is just….wrong.
Penny loafers were named as such because they could be decorated with a penny (or often, a dime). I didn't realize there was actually an urban legend behind this:
In 1934 John R. Bass (a bootmaker in Wilton, Maine) started making loafers and called them Weejuns (meant to sound like Norwegian). These had a strap across the upper part of the vamp that was shaped like a pair of lips (said to be John's wife, Alice Bass, kissing each shoe on its way out the door). The mouth opening soon was used to hold an ornament (such as a penny), and thus penny loafers became a style. Penny loafers often held a dime instead of a penny. (From Wikipedia).

Edited: Correction: Allison in comments points out that it was actually George Henry Bass (and not John R.). Thanks, Allison, for pointing out again why Wikipedia can't be entirely trusted!
In the days of yore, the penny loafer was a low-heeled shoe through and through, with a strong masculine vibe (it makes sense, since it started off as a men's shoe). These days the penny loafer, just like the oxford, has gone through a high-fashion transformation, and the New York Times' T Magazine is eager to present these options to us:
Clockwise from top: Christian Louboutin shoe, $1,050 a pair. Go to christianlouboutin.com. Yves Saint Laurent shoe, $770. Go to ysl.com. Tod's shoe, $545. Go to tods.com. Nine West shoe, $99. Go to ninewest.com. Cole Haan shoe, $275, and Anna Sheffield for Cole Haan coin, $45. Go to colehaan.com.
This style is a classic that's been around for decades and is bound to stay in style for a long time; in theory at least, you can't go wrong wearing a pair of well-made penny loafers. I do admit to having misgivings about the 3+ inch height of the models shown in T Magazine; but again, I also have misgivings about models that look so masculine I have no desire to wear them. Therefore, I have also scoured teh interwebs for more pleasant AND easier on the feet loafer-options and found a few. Behold: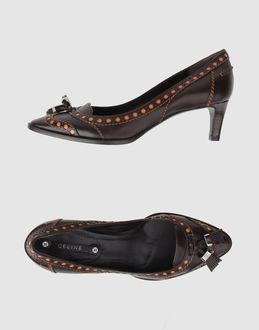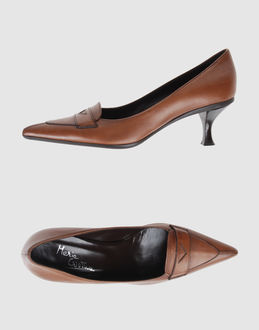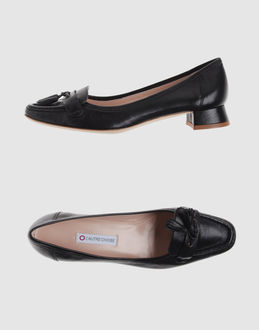 From top to bottom:
Marc by Marc Jacobs patent loafers (available in other colors, too), $264 at Zappos.
Marc by Marc Jacobs high-heeled loafers (2 & 3/4″, also available in other colors), $354 at Zappos.
Kate Spade Lindsay loafer (also available in other colors), $199 at Zappos.
Givenchy gold calf loafer, on sale for $204 at Zappos.
Tory Burch Clayton Loafer (also in red), $275 at Nordstrom.
Celine tasseled low-heeled brogue, $460 at Yoox.
MariaCristina low-heeled loafers, $178 at Yoox.
L'Autre Chose tasseled loafer, $68 at Yoox (only one size left!)
First Gwyneth Paltrow has high heel-related problems, now Sarah Jessica Parker: High heels have destroyed SJP's knees
Usually, we match our shoes with our outfit, but a car?
Abaete for Payless Fall is here!
For the runner in you: join the debate–landing on your heels or the balls of your feet? A new shoe is trying to change the way we run–more pros and cons in this Denver Post story.
It was inevitable, but it doesn't make it less tragic: Paris Hilton launches line of shoes. The world recoils.
There is still plenty of time to bid on some of the fabulous shoes auctioned by the Collections at WSA on eBay. It's for a good cause, too–proceeds will benefit the Ovarian Cancer Fund. Some of the great finds there:
These sweet Celine Rossimoda Canvas leather flats in a size 38, priced for now at only $75:

…these to-die-for funky purple Etro flats, size 40, starting only at $50:

or these classy Tory Burch thong sandals in a size 7, currently at $102.50:

Many more models available, so what are you waiting for?
If there was one item I could add to my otherwise bloated shoe collection, it would be one pair of awesome riding boots. I can't, nor have I ever been able to, ride horses; but of course, you will necessarily laugh now– poor soul, so naive to think fashion should actually stay true to its (original) practical purpose! Sure, and winkle-pickers were meant to pick winkles–what else now?
No matter how practically inclined I may be, I simply looooove riding boots. There's something about the sturdiness of the leather, the classic hardware details, the firm embrace of the tall shaft, the solid comfort. Of course, they're also pretty flat–why would you want to ride horses in high heels? unless you're Madonna, but let's not even go there, ok?
So, if, theoretically, I had wads of money just dying to come out from under my sofa cushions, I'd get myself a proper riding boot, not unlike this classic number from Celine, what with the beautiful leather and golden studs that are at once understated and distinctive and the ring ornament and the classic line.
This boot says that you're your own person, that you're strong and don't take no BS from no one, that you mean to walk with confidence and conquer the world and the world had better get out of your way. Love it! I'm less enamored with the price, $880, which puts it out of my reach for, oh, I don't know, forever? Still, it's nice to dream about it….