Archive for the 'Dolce Vita' Category
posted by: shoesense in Anne Klein, Chie Mihara Shoes, Cynthia Vincent Shoes, Dolce Vita, Flats, High heels, Kate Spade Shoes, Kenneth Cole, Paul Green Shoes, Piperlime, Rafe Shoes, Sandals, Zappos
Yellow is a hard color to pull off, especially when it's on your shoes. I never owned yellow shoes, and I'm pretty sure that since the time I turned 12 I never wore anything yellow.
This spring, however, things are going to change. Yellow is big, and some of yellow shoes proposed by the designers are positively delightful. Every year I make one big shoe resolution–a couple of years ago it was throwing out my high heels; last year was buying more peep-toes; and this year, I think I'm going to make the leap to yellow.
I'm not sure what to choose though, especially when the choices are so varied!
Cynthia Vincent Sophie in black and yellow, 270 at Piperlime.

Kenneth Cole Button Up yellow suede flat, $120 at Piperlime.
Rafe Irina bow flat, $220 at Piperlime.
Dolce Vita Moritz peep-toe Mary Jane, $100 at Piperlime.
Frye Cameron skimmer, $148 at Piperlime.
AK Anne Klein Foxie, $89 at Piperlime.
Paul Green Vienna thong sandal, $219 at Zappos.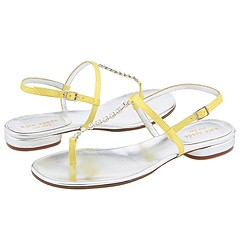 Kate Spade satin and crystals sandal, $299 at Zappos.
Gabriella Rocha Studio Cota, $109 at Zappos.
Franco Sarto Fancy, $89 at Piperlime.
Tory Burch Reva2, $195 at Plaza Too.
Chie Mihara Quake flat, $310 at Nordstrom.
…I'll tell you what, I'm going to go and mull over this for a while…
Hello there, Shoeblog readers! For those of you who have been looking forward to one of our exclusive discounts, well, the wait is over! Our fabulous friends from Barefoot Tess have a great discount for you: Use code SHOEBLOG35 until 01.31.08 at checkout for a 35% discount on any pair of shoes. That's over one third off, people! Which you can use wisely to get, for example, these absolutely gorgeous "Midori" Delman flats ($335) in deep blue satin with gold snakeskin details…absolutely delish!
Or here's a boot just perfect for this lukewarm winter we're having in the Northeast: the practical but fashionable Dolce Vita tall slouch boot in navy ($119):
My favorites though have got to be these Corso Como handsome boots ($260) with a modest heel (2″), understated but chic details, and cursive lines:
Of course, there are many more choices at Barefoot Tess–so go, browse, and enter SHOEBLOG35 at checkout for 35% off your order until the end of the month. Have fun!
When the bad weather hits, and hits bad, all a girl wants to do is curl up in bed with her laptop and a cuppa tea and shop online for shoes. Right? (*Chirp*). Ahem.
The experience is even sweeter if you can find some nice deals to brighten your day. Because I'm generous like that and want to spread the good cheer of shoes to all womankind, I'm going to share with you some coupons on Barefoot Tess, a wonderful shoe site which you should all go visit right now.
First: Chie Mihara Lumi!  An expensive, but extremely cool T-strap flat, alluringly gleaming in all kinds of awesome. Type in the discount code LUMI to get 30% off these beautiful shoes ($315 retail price).
Then, there's a chance to stock up for next summer, alas, with the Dolce Vita "Nimbus" flats. They are already reduced to $24.00, but you can have them for $15.00 dollars by typing in NIMBUS at checkout. They're practically free, is all I'm saying. (Also available in deliciously vintage-y red-and-white stripes.)
If you're in the mood for something more season appropriate and less flirty, try this Matt Bernson Clinton wedge. You can save $70 off the regular $175 purchase price by typing CLINTON at checkout.


Finally, a shoe I've almost bought: Loeffler Randall "Mina" flats - available in silver or black. Type MINA for 40% off the list price. They're originally $360, so your price would be (*calculates at lightning speed*) $216. Not bad at all!
Happy bargain shopping, shoe lovers!