Archive for the 'Etro Shoes' Category
(I know, I know–Jitterbugbaby just wrote about yellow spring fever just the other day, but shoe obsessions die hard at Shoeblog–so bear with me).
I once read a list of requirements in order to qualify as a 'shoe fanatic'. One of them actually was owning a pair of yellow shoes. I never knew yellow shoes were such an extravagant choice, though upon closer examination it was revealed that, indeed, I did NOT own any yellow shoes. The situation has been remedied since (ahem), but honestly, the author of that list would do better to reconsider that particular requirement, since yellow is a BIG color this season. Yellow can be a hard color to pull off, but this season designers created some really wearable, cute footwear choices that are a pleasure to wear. Consider this delightful, summery sandal wedge, for example, fresh and hip and all daisy-like:
The white-yellow combo makes it very wearable. Just perfect to wear with a sundress–n'est ce pas? $180 at Satine Boutique.
Or you can do a subdued yellow in a flirtatious yet supremely wearable style, such as these cute Hollywould espadrilles in a low wedge style with croc-embossed trim and leather laces on vamp:
Is there anything these won't go with? They're also 50% off on Shoes.com, going for $122.
And these sunny, cheerful Camper Mary Janes will put a spring in your every step and will go well with jeans and a cute top:
($81, 50% off at Shoes.com).
You can, of course, always dress up in yellow, as with these gorgeous canvas Etro slingbacks with bright red leather trim: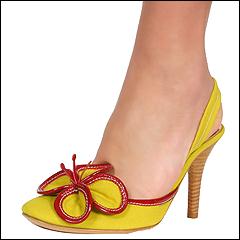 One thing is certain: yellow spells F-U-N!