Archive for the 'L.A.M.B.' Category
posted by: brianka in Betsey Johnson, Boots, Endless, Flats, High heels, Hot Shoe Deals and Steals, Kate Spade Shoes, L.A.M.B., Mary Janes, Mules, Oxfords, Platforms, Pumps, Sandals, Slingbacks, Spring 2009 Shoes, Taryn Rose Shoes, This week in shoes, Via Spiga Shoes, Wedges, Zappos
Valentine's Day is just around the corner.  And, whether you have a romantic evening planned with your honey, or are having a single gal's 'stag' evening – any excuse to ogle red, hot, sexy shoes is okay in my book.
So, let's start with some sweet floral shoes that look like romantic bouquets: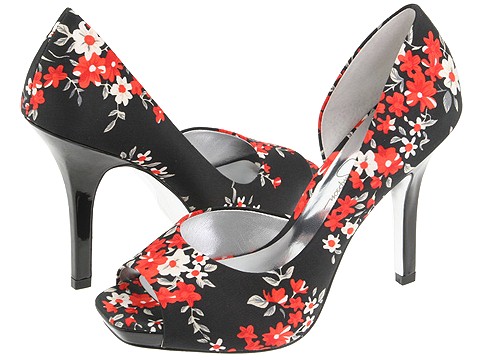 Jessica Simpson 'Josette' $39.99 @ Smartbargains
Kate Spade 'Gesture' $218.97 $297.95 @ Zappos
Kate Spade 'Carine' $161.70 $277.95 @ Zappos
Taryn Rose 'Betty' $315.96 $394.95@ Zappos  
Moving on to wearing your heart for everyone to see (though on your feet, not on your sleeve):
 Promiscuous 'Heartless' $55 @ Zappos
Promiscuous 'Enticing' $49 @ Zappos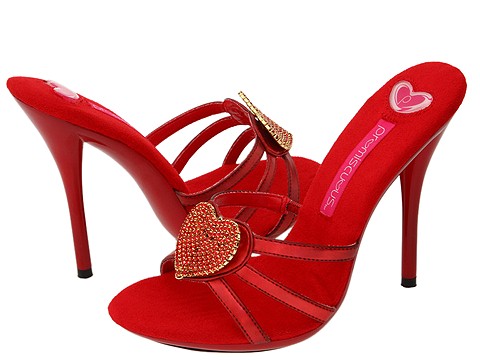 Promiscuous 'Fixation' $53.10 $59@ Zappos
Penthouse 509-Diora Stiletto $72.99 @ Snaz75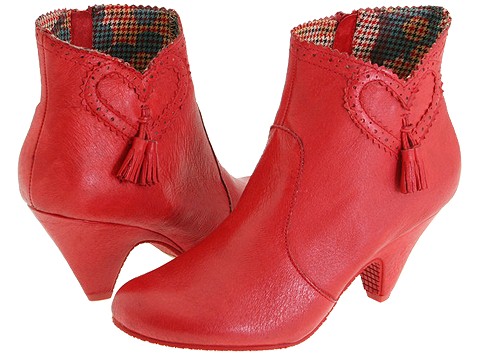 BC Footwear 'Cuttin and Scratchin' $80 $100@ Zappos
Betseyville 'Lenore' $82 $114@ Zappos
Well, whatever your Saturday has in store for you, there's always room for another pair of fabulous red shoes in any gal's closet: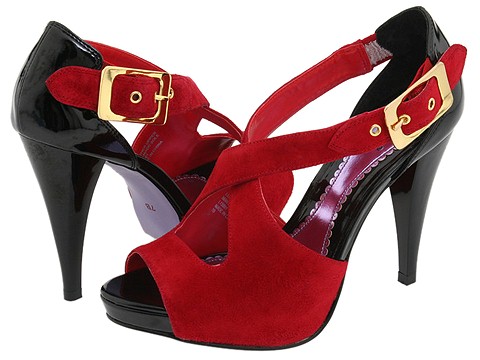 Luichiny 'Clara' $90.21 $134 @ Zappos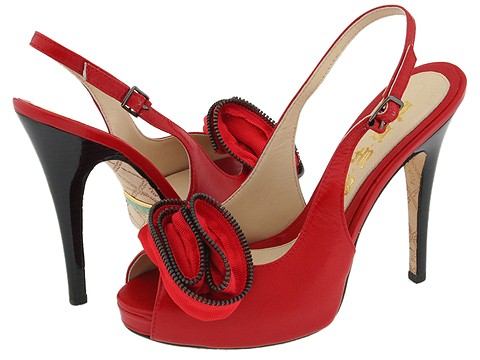 LAMB 'Sidney' $240.30 $319@ Zappos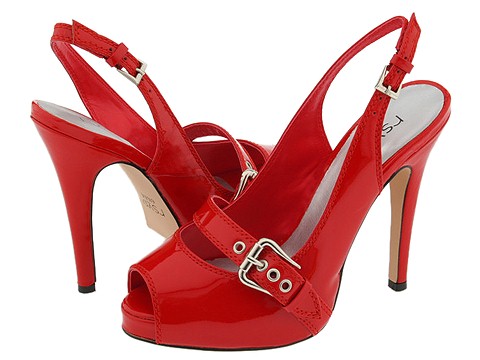 RSVP  'Rori' $59.55 $85@ Zappos
Sam Edelman 'XIla' $64.43 @ Endless & $85 $123@ Zappos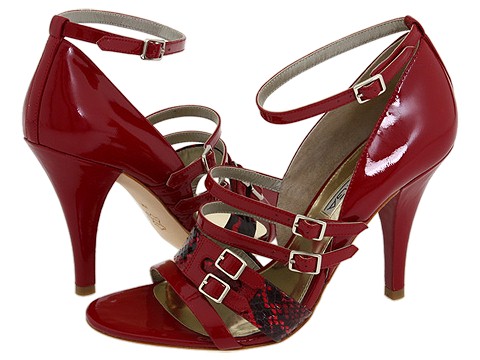 Via Spiga 'Mavis' $122 $197.95@ Zappos
Oh, and if you are one of those ladies who doesn't yet own a pair of red heels – What are you waiting for? Red is an absolutely fabulous wardrobe neutral that simply exudes confidence from the ground up.
posted by: brianka in Boots, Dolce Vita, High heels, Hot Shoe Deals and Steals, L.A.M.B., Manolo Blahnik Shoes, Mary Janes, Oxfords, Platforms, Pumps, Sandals, Spot the Shoe on Sale
The Nieman Marcus 'Cusp' website is having an 'Up to an Extra 50% off' sale (Online prices include all discounts).
Some of the featured shoes:
Manolo Blahnik's Green Satin Buckled Sandal $337.80 $805 @ Cusp.com.
Modern Vintage Buckled Maryjane Pump $94.20 $225 @ Cusp.com
LAMB Platform Cap-Toe Booties $218.40 $520 @ Cusp.com. 
Dolce VIta Spectator Maryjane Pump $58.20 $145 @ Cusp.com
As always, have fun & happy shopping!
posted by: brianka in Boots, Fall 2008 Shoes, Focus on the Shoe Brand, High heels, L.A.M.B., Mary Janes, Platforms, Pumps, Sandals, Slingbacks, Spot the Shoe on Sale, Spring 2008 shoes
I am seriously falling in love with the whole L.A.M.B. shoe line. Admittedly, some of the styles tend more toward trend-following rather than trend-setting, but there is always a decidedly fun and sassy spin added to the styles to keep them from feeling too derivative.
So, I popped over to Shopbop today, and noticed that they continue to put large numbers of items on sale; here's to holiday shopping joy.
In the L.A.M.B. corner, here is what I found:
Rosebury Hidden Platform Button Bootie $520 $364.00. I do love that muted color-blocking take on the classic granny boot.
Fen Square Toe Pump $395 $276.59. This is simply one stylish, cute, and sexy pump.
Essex Plaid Ankle Bootie. $475 $332.50. Let's see: Plaid, High-heel, Platform, Ankle Boot. How much more on trend can you get for this season?
If you prefer less ankle and more boot, how about the Rose Plaid Lace-up Bootie $515 $360.50 instead?
If you'd rather forego the plaid and stick with a subtle grab for the Zippers trend, you can give the Mika Hidden Platform Two-Zip Bootie a shot ($390 $273).
Now we come to a boot that makes me swoon, even though it screams of Sgt. Pepper's and Rhythm Nation all rolled together. While I'm afraid I'd be playing right into some bizarre majorette fantasy, I can't stop drooling over these Belgrave Multi-Strap boots $725 $507.50. . . . . . So incredibly hot.
If you aren't loving the super-strappy buckle boots (well, I obviously don't identify); The Vincent Hidden Platform boot is still pretty much smokin' hot while holding to a mere hint of the buckle-love ($625 $437.50).
Next, we are back to a style that almost always owns my heart: mary-janes. Do you adore this Finsbury Criss-cross Maryjane pump ($400 $280) as much as I do? I Swoon.
Back to one final trend: Fringe. Two Booties and a Sandal. What I do like about these is that they are not 'Frontier Fringe' styles and will in no way be mistaken for casual Renaissance Faire garb.
First, the Camden Scallop Open-toe Bootie $430 $301. I can't help it, I think it's growing on me.
Next, the suede version (which is a bit less scallop-intensive); the Norland Scalloped High Heel Bootie $425 $297.50.
The final fringe contestant is the Yoyo Chainmail T-Strap sandal $390 $117 final sale (Size 10 only). The ombre effect of the multicolor, layered chain is a rather nice effect.
And, finally, a throwback to summer's gladiator sandal frenzy (which was, quite possibly, the most ubiquitous shoe of the year): the Ely Shield Sandal $345 $241.50. This certainly is a more feminine and flattering gladiator than many that I encountered this year; the multicolor straps also look like they would allow more coordination within one's wardrobe than a straight brown sandal would.
As always, Happy Shopping. And remember, we all love too Ooh and Aah folk's new additions to their shoe collections over in our Forums (No need to be shy).