Archive for the 'Mephisto Shoes' Category
For those of us with high arches, or sensitive feet, wearing flimsy-soled shoes in the heat of summer can often prove to be a painful experience. You may end up to feel every grind and bump in the road, and your arches may ache by the end of your trip. Fashion designers don't really seem to care about these issues, as they know their target-market pretty well. Thus, as long as their footwear looks dainty and pretty, they know that the alternative is often Birkenstock, and Birkenstock wearers tend to (somewhat wisely) put comfort ahead of fashion–thus, they're not their target clientele. Problem solved!
As you all know, I love my comfort as much as I love my fashion, and so I couldn't help but wonder: isn't there some compromise in between? Can't I have my molded, anatomical footbed, and my fashion, too?
Turns that why, yes, I can! There are a variety of anatomically friendly sandals out there, which in addition to offering arch support, metatarsal support, and plenty of cushioning, are also quite easy on the eyes. Just let's get one thing clear: dainty delicate things, they're not, and they're not meant to be. That doesn't mean they're not beautiful, though, and that they won'tt keep you comfy during the hot summer days.
Without further ado, here are some of my top choices:
The Rafe 'Kate' jewel sandal. The suede-covered footbed is secured on a crepe bottom for plenty of cushioning. The upper is vintage-finish leather decorated with antique brass and agate resin stones. Not only will they make you feel comfortable, but also rich and fabulous, too! Barefoot Tess has a fantastic sale on these ($69, down from $245), although, sadly, only in a size 10. Oh wait, that's MY size! Yay!
It's hard to top these in glamor, but these next contenders put up a strong showing:
Also available in a natural cork color, these Pedro Garcia thongs with crystal-encrusted suede uppers and molded footbed lined in metallic leather are on the pricey side ($375 at Neiman's), but they will make you feel like a barefoot princess.
Alternately, these Donald J. Pliner toe-loop sandals will unleash the wild woman in you:
They are lined in the softest suede and are supremely comfortable. Neiman Marcus has them for $165, but you wanna know a secret? Endless has them currently on sale for $55, plus they give you free overnight shipping and pay YOU $5 if you order from them–so really, they would only be $50. Not only that, but they're also available in a variety of attractive patent uppers (red, blue, and black) in addition to the Congo print (pictured). God, I love a good sale when I see one! I almost need to smoke a cigarette now, this one was so good.
I was of split mind about these Mephisto 'Violette' sandals, but on closer inspection, I think they pass the comfort-cum-style inspection:
….They're also available in red or black, although red is my favorite, and they're 140 at Shoes.com.

I've heard a lot of praise for Naot, though I can't say I've tried them myself. However, I would wear these in a heartbeat:
Finally, anything by Think! will be both well made and reasonably stylish. The footbed is molded and supportive and the upper sturdy and funky:
This 'Mizzi with face' style is available in a variety of colors is $155 at Nordstrom's (and 10% at Zappos in certain colors).
I'm also favorably inclined towards these Marc Jacobs cute-and-comfy patchwork slides ($204 at Zappos):
So, if you want to give your feet a break (and you should, they've served you well all these years), wear a comfortable sandal several times a week, or whenever you get a chance, really. You don't really have to compromise on style–and the only downside is that you're going to get so used to the comfort you'll never want to go back to the flimsy, delicate, strappy things that fashion dictated you to wear.
The Classics: those shoe brands that are widely considered to represent the pinnacle and universality of their particular category. For heels, think Manolo Blahnik and Jimmy Choo. For ballet flats, think French Sole (both FSNY and FrenchSole/LondonSole) and Givenchy. And for walking comfort, think Mephisto.
Now, I know Mephisto doesn't have a rep for being the most stylish or streamlined brand. And for years, this company left me cold. There were no styles that really struck me as attractive, and those that were nice-looking ended up being too narrow for my feet. But, like many comfort shoe companies over the past few years, Mephisto is upping their style quotient, with some really nice looking results. And I have finally incorporated a pair into my shoe wardrobe.
When I first went through the podiatry visits and physical therapy that convinced me I needed orthotics, I was a heartbroken girl. I was convinced I'd never be able to wear fun shoes again, that I was consigned to a life of "old lady" shoes, and that shoe shopping would become purely about what could fit my orthotics, and that fashion was a thing of the past. To cheer me up, good old Mom and I went on a shoe-shopping trip to Eneslow in NYC (a great comfort footwear store with everything from sneakers to dress shoes, for anyone who's ever looking), and Mom kindly bought be these Mephisto Beatrice oxfords.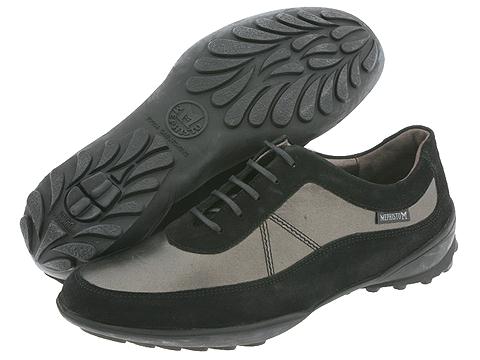 Now, for all my training in shoe brands and focus on comfort and construction, it's still rare that a new pair of shoes literally needs no breaking in AT ALL. I know that's what any truly well-fitting pair of shoes should be, but my feet just don't allow for that in reality. Or, they didn't until I tried on the Beatrice's. They really are incredibly comfortable, and fairly stylish, in my opinion. The silver metallic and black suede are a fun combination that's sort of sporty, but a little more fashion-forward than a plain leather would be.
So, here's a little paean to this brand. First off, the basics. It's a French-based company that focuses on using high quality materials and providing excellent support for people who really WALK in their shoes. They use tons of different lasts for lots of different shaped shoes, and their soles are all rubber or polyurethane, which offer excellent shock absorption. They have partly-cork footbeds in many of their sandals, so the shoes mold to your feet as you wear them. Their leathers are soft and even the strappy sandals don't cut into your feet when you wear them. Mephisto shoes often have removable and/or ventilating and wicking insoles to keep your feet comfortable and dry. They give you arch support a-plenty, and have just the right balance of soft but supportive footbeds.
Since I know what you're really all waiting for, here you go… THE PICTURES!
The classic Helen sandal in funky gold iguana
The Ibbine loafer in beautiful bronze leather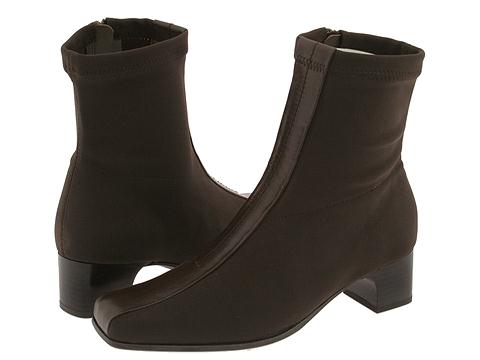 The sporty… er… Sporty
Caution: Mephisto's do often tend to run on the small side, so keep that in mind when you're ordering/buying and try going up a size.