Archive for the 'Paul Green Shoes' Category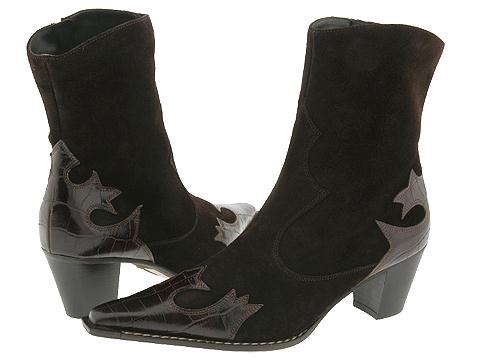 These Princewestern-flair boots from Paul Green are currently 61% off on Zappos, going for about $143–which would be 143 of your best-spent bucks, especially if you're into the current Western-craze. I confess I'm not–I can't pull off cowboy boots or hats, heavy buckles, or suede fringes of any sort, though I thoroughly admire those who do it with style. And style is at the forefront with these boots, in a combination of suede and croc leather upper, and a user-friendly 2" heel.
I crave them so much I might as well give up my stylistic allegiances (which veer kind of all over the place but definitely away from Western). It also doesn't hurt that from my personal experience, Paul Green is a brand well-worth investing in. I have a pair of summer slides with a 1 3/4" heel, which is basically my most comfortable and versatile summer shoe. This European designer understands two things: comfort and quality. Those slides are superbly constructed and have the best arch support. They are definitely meant for walking, as are these beautiful boots.
Since I waste no time expressing my rejection of high heels (everything over 2 1/2") for being, well, painfully crippling, let me clarify that I agree with the commenters on the previous post that flatter-than-Texas shoes are equally uncomfortable.
I know that because I, too, have a ridiculously high arch. A bit of heel (say, between 1" and 2") gives me much needed support (especially if it's a somewhat sturdy heel or a wedge). Even better are soles with built-in arch support: the middle section of the shoe is slightly raised just where your arch is, thus providing a comfortable resting place for the entirety of your sole.
For some strange reason, however, only a handful of brands employ this incredibly simple yet life changing technique; and regrettably, of those brands, only a few have also got the looks to make it worth it; and even more regrettably, the price tag attached to any of these brands is higher than your average shoe, and sometimes downright ridiculous.
Taryn Rose is an example of well-made shoe (lightweight materials, arch support, often pretty design); Thierry Rabotin does it even better (no, seriously: although I can't afford his shoes yet, and they don't really come on sale, I've tried them on and they are HEAVENLY); Icon shoes have good arch support, too, and so do Cole Haan (especially the G-series). Paul Green is also acceptable; I've illustrated this post with an example of a well-constructed Paul Green flat: can you see how the sole is slightly raised toward the instep? That's what I mean by arch support.
Unfortunately, as I said, the price tag for these brands reflects, I presume, the care that was put in their design.
Oh: and a well-made sneaker will come with the obligatory arch support. In fact, if you buy sneakers from a specialized store, they will first measure the height of your arch–make you leave a foot imprint on a surface, decide how raised your arch is, and then recommend the appropriate sneaker for you (they will have sneakers suitable for flat, medium-arch, and high-arched feet). Of course, if you get the wrong type of sneaker, it won't be as comfortable–duh!
Still, for problem cases like me (plantar fasciitis, heel spurs, remember?), sometimes nothing short of an orthotic support will do–a 3/4-length insert molded after my sole and which can go into any closed shoe. Which is why I can afford to have some flatter-than-pancakes shoes in my collection: the orthotics make them instantly comfortable. Of course, it doesn't work for really flat sandals, which are really hurting my feet. Open toe and open back shoes can't accommodate orthotics, and for those I really need a bit of heel and arch support as well.
My orthotics are pretty wonderful in the sense that they not only provide arch support, but properly align my foot bones, thus correcting gait and posture problems (the way you stand and walk has, of course, repercussions on your spine), and preventing the dreaded foot pain (which is why I got them in the first place). Again, the drawback for the orthotics: the price tag (hovers between $350 and $400 for a custom made orthotic, which is also not covered by health insurance), but that's somewhat alleviated by the fact that they practically last a lifetime and you just need to replace the lining every few years, which isn't nearly as expensive.
If you want to try a walking life with orthotic support without breaking the bank, I've read some research that supports the fact that any well-made ready-to-wear orthotic insert will help–and they will also cost 10 or 20 times less than the custom-made ones. Who knows, you may find your perfect fit right out of a $9.95 box!