Archive for the 'Roberto Cavalli Shoes' Category
When Alexander McQueen first made skulls chic a few years ago, I thought the skull trend would last a few seasons tops. Yet, as recently as January and March of this year, the trend was still alive and kicking. Okay, I thought, surely skulls are on their final and last legs.
Boy, I'm glad that I was wrong. From Roberto Cavalli's Fall Shoe Collection comes these decidedly wicked yet beautiful skull shoe creations. Don't you just love the Swarovski flowers combined with the skull and serpent on these sandals?
The heavy in the pocketbook girl can preorder the Roberto Cavalli Skull T-Strap Sandal for $1,230. (Sigh, there goes any plans for wearing these out on Halloween.)
In case skull sandals aren't your thing, Roberto Cavalli also produced a skull boot version ($1695) for you to admire.
This morning waiting for the bus, the wind and rain were something else. We were all huddled under the little glass bus awning with a wall of umbrellas facing outward like a Roman military formation covered by interlocked shields. Yuck!
So, what kind of fun can we have with shoes on a rainy day? I think it's time for a Walking Disasters post.
How about these pink monstrosities by Irregular Choice (a brand that can always be counted on to make some style missteps–although I do confess to loving some of their less extreme shoes). I pretty much hate everything about these, from their skeletal-looking woven leather strips to the bow that looks like it's been put through the washing machine a few too many times to the bubblegum pink heel tips. Yuck!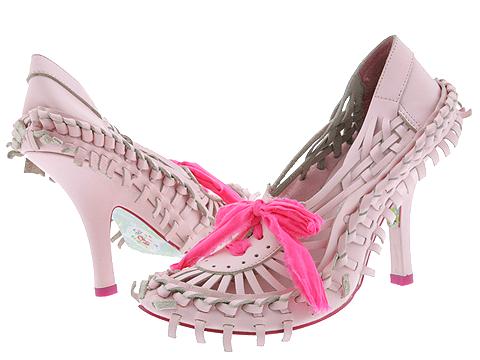 I love Heidi Klum for Project Runway, and for that reason, I am forgiving her for helping to create these day-glo Star sandals for her Birkenstock line. Birkenstocks take enough heat for having no style. Why, oh why, must they make a shoe out of radioactive ooze on top of all that?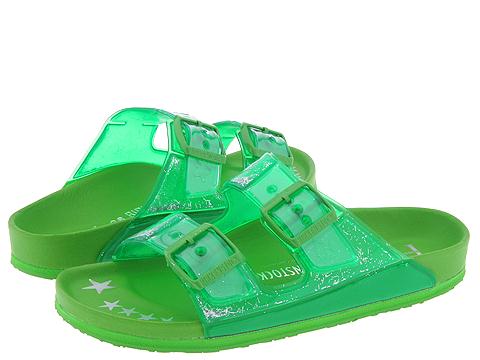 The perfect shoes for your upcoming Halloween costume as a Sexy, Hairy Toad.
Is Albert Einstein your style inspiration? have you always dreamed of recreating his signature mop of crazy white hair in your footwear? Then, these D&G boots are surely your fashion dream come true.
It's almost that time. Oscar time, that is.
The 79th Annual Academy Awards are on this Sunday night, and you know there will be fashion statements galore: the good, the bad, and the really ugly.
What unfortunately gets covered up by long dresses too often are THE SHOES!
Who could forget Stuart Weitzman's opulent creations for the past few years: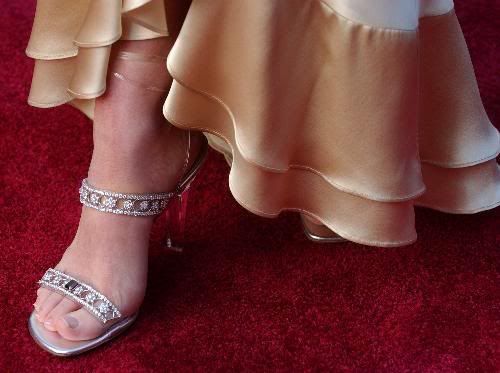 2004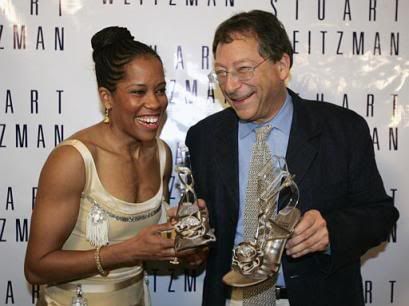 2005
Can't wait to see what he comes up with for this year.
And here's a shot from the New York Times slideshow of Oscar swag. The goodie bags are scaled back this year (because celebs have to pay taxes on any gifts they receive), but there are places all around LA offering plenty of treats. Like Haven, which is offering shoes by Jour Nuit (retail $300-1,000) like these: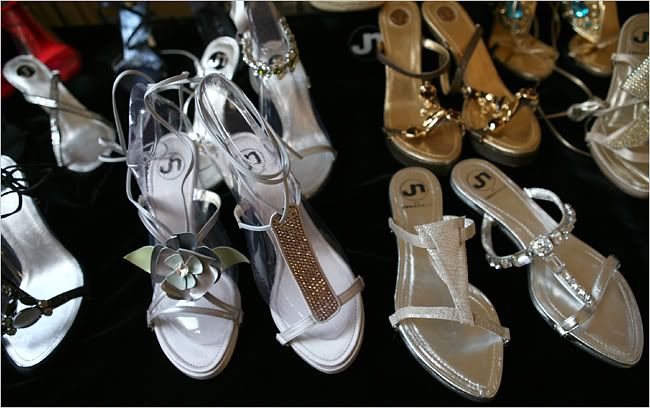 In the meantime, I'll just have to sit here and fantasize that instead of watching the Oscars on TV at home, I'll be there all dolled up to the max. Fodder for my fantasy? How about these lovely examples of high-glam evening footwear?
The Christian Louboutin Tenue or Josephine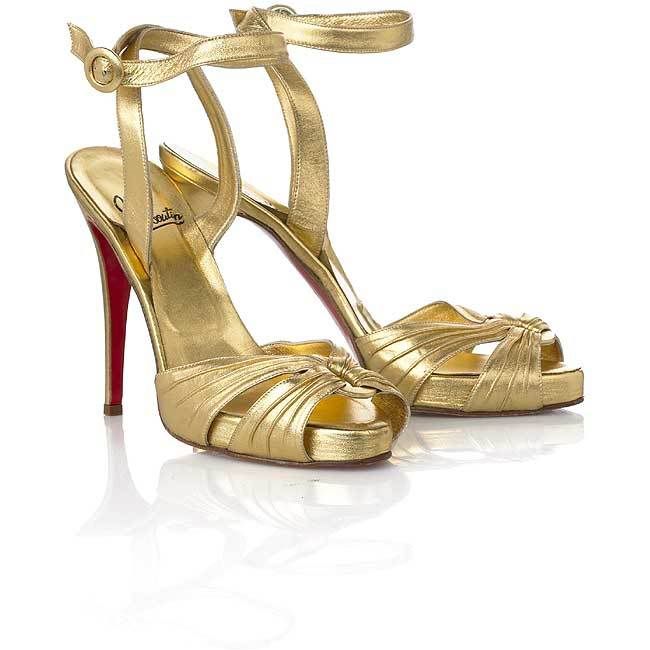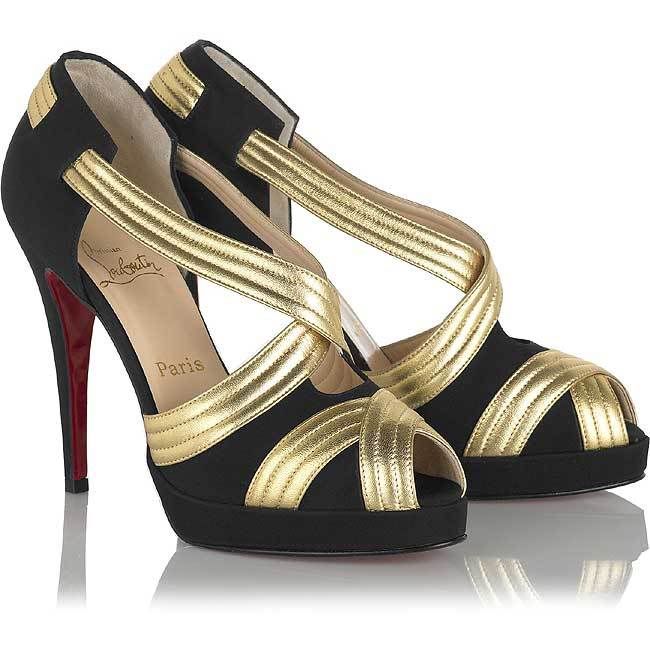 Or these jeweled numbers by Manolo Blahnik at Neiman Marcus.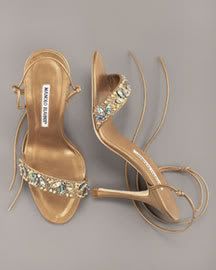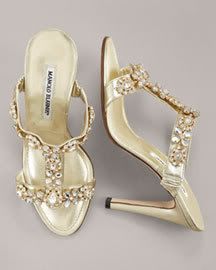 Or either of these blinged out Giuseppe Zanotti stunners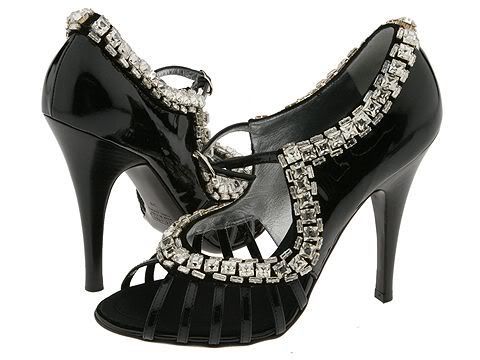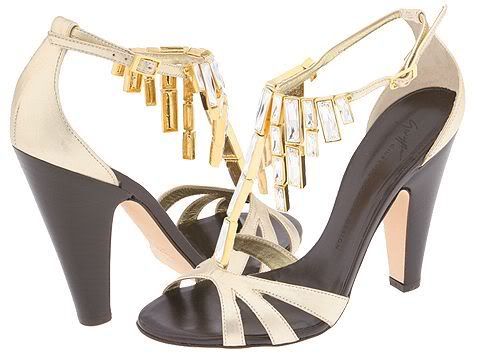 And finally, these sun motif sandals by Roberto Cavalli, who's always good for some over-the-top va va voom style. And if you're really in the market for some high glam evening shoes, these are currently 49% off at Zappos , and you can pick them up for a still-not-insignificant $511. But only if you wear a size 6, since that's all they've got left.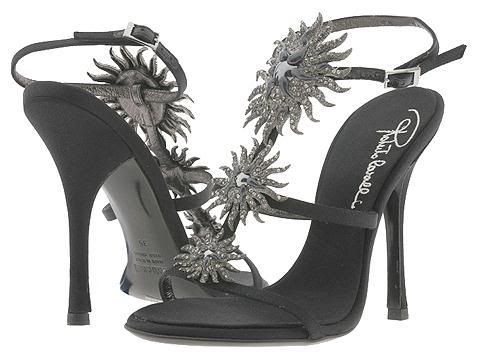 So if you're watching the Oscars on Sunday night, keep an eye out for the shoes, and just imagine all the glamorous shoes you won't see under all those long gowns and their trains.