Archive for the 'Sofft' Category
The weather has turned warm in Northern California (never mind the occasional rainy interruption). Everywhere I turn during these suddenly sunny days I see sandals I want! I find myself particularly drawn to sandals that are a little dressier with a heel and a buckle (or button). The following beauties are currently on my shortlist.
These are the shoes that started my current infatuation.
The Miz Mooz Full House sandal for $94.95 at Nordstrom (also in blue and green patent).
I'm really loving Clarks Artisan Collection! These sandals are just what I'm looking for (love the big button) and because they're Clarks I can actually walk all day in heels!
The Clarks Artisan Collection Diamond Heart sandal for $90 at Zappos (also in black and gray).
Before I reveal the higher heels I'm loving, here is a practical lower heel by Corso Como.
The Corso Como Pez sandal for $116.12 (regularly $154.95) at Endless (also in dark brown and red).
I cannot stop thinking about these sandals by Sofft. I love the gray suede!
The Sofft Palermo sandal for $109.95 at Zappos (also in black).
And finally, the highest heel! At 4.5 inches, these shoes are what I dream of wearing instead of being married to my flats.
The Coach Tamara sandal for $198 at Nordstrom (also in black).
I will continue to wax obsessive on all things boot-like when it comes to footwear.
And, unlike yesterday's Gucci boots or Sunday's oh-so-lustworthy Dsquared2 styles, these little booties from Sofft are even potentially budgetable – especially if I luck out and find them on sale sometime over the next several months.
Take a look:
Sofft 'Orlena' $154 at Zappos, $149.94 at The Walking Co.
These little pretties have been growing on me since I first glimpsed them about a month ago.
Seriously, how cute are those buttons and the slightly-oversized cuff? And look, they come in either black leather or grey suede; both are beautiful fall options.
Delicious….and falling nicely under the unfortunately-becoming-too-common $200-$700 price range.
Plus, these are made by Sofft – which has a well-known reputation for producing styles that are comfortable as well as fashionable.
These are definitely on my mental short list for 'shoes to keep an eye out for during sales season'.
OK, while I agree that we would all be better off if the word 'Intervention' were to be placed on a 6-month moratorium, it is exactly what I am asking for here.
My budget – and Macy's card, would be truly grateful.
My conundrum?
This boot: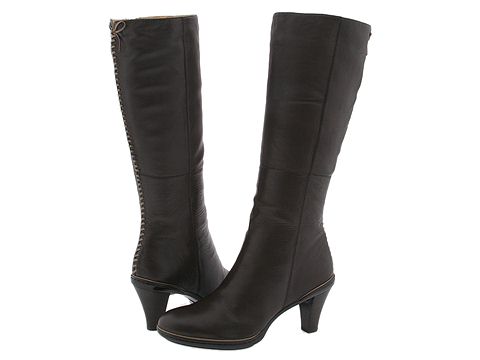 The Sofft Tyla (Or Tyla II, depending on whether it's the leather or suede version)
Innocuous enough, wouldn't you think?
But, I am forced to avoid the local Macy's (Which is not only the local 'High-end store', but also subject to being referred to as The Bon by pretty much, well, everyone – maybe that's a Northwest thing?) lest I find myself once again falling again under it's strangely hypnotic spell.
What is it about this boot?
Well, it's by Sofft, so the whole comfort for all-day wear is definitely a plus. But, that's not enough to explain it's strange hold on me. No, I really think it is this:
Yep! It's definitely this corset-styled whip-stitching across the back seam.  I am also strongly enamoured of the slight color contrast of the tan against the shaft's burgundy-brown leather … as well as the hint of playful attitude it brings to an otherwise classic and conservative boot. It also helps that at 3-inches, the height is a perfect balance of walkable without losing that oh so desirable hint of sex appeal.
Oh, and the kicker is that if I use the Macy's coupon that I received in the mail last week, it is $25 off the current in-store price of $105 (full retail started at $175!). That's $80 - and an almost unbearable temptation to pass up.
Added to all of this is the pretty, paisley sole: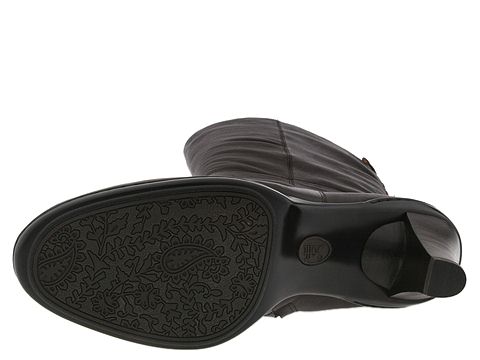 That's just 'icing' on an almost irresistible cake.
Somebody stop me. Really.