Archive for the 'Taryn Rose Shoes' Category
Congratulations to GiGi, comment #87 as chosen by Random.org!
We'll be contacting you shortly to get your shoe size and mailing address so your fabulous new Taryn Rose shoes can find their new home.
GiGi's entry comment on the original contest was sweet, if just this side of racy!
My husband is in the NAVY…when he comes home for Christmas I think these should would be very fitting for our own, private Christmas party
Our thanks to everybody who participated. Your comments and enthusiasm were wonderful to read.  I'm looking forward to our next contest (which may involve twitter or facebook).
Also, for those of you who didn't win this time, the Fierce Disco shoe has gone on sale for $311.50 (33% off) at the Taryn Rose site since we started the contest 2 weeks ago -  which is even better than the SHOEBLOG discount code that is still in effect at the site until December 31, 2009.
(Original *non-promo* photo is at front page of Taryn Rose website)
Dear Readers,
Have you been good this year? If so, heck even if you were a little naughty, how does a chance to win a pair of luxurious, comfy dressy shoes sound? Good, right?
Well, just in time for the holidays, we are pleased to announce a Shoeblog giveaway for pair of these Taryn Rose 'Fierce' Disco (Disco is the color) peep-toe shoes; retail value $445:
Taryn Rose was founded by a former orthopedic surgeon, and the brand is well-known for designing trend-conscious footwear with a focus on comfort and wear-ability. The shoes are hand-sewn in Italy, and while they are not exactly inexpensive, they are very competitively priced for a hand-made shoe ($300-$600), particularly when compared to recent large price increases seen among luxury shoe designers.  I do admit that I have a few Taryn Rose styles on my personal wish list,  but have not yet had a chance to invest in any shoe from this brand for myself. However, one of our lucky readers will be able to receive a pair of the attractive Fierce Disco pumps we are showing today.
These sparklers will easily dress up any LBD – whether you are partying on New Years Eve or are simply out for an intimate dinner-date with your beau…plus, you will still be able to walk without limping come the evening's end.
In conjunction with this contest, Taryn Rose has graciously provided a 25% off promotional code discount for Shoeblog readers. The code is good from 12/1/09-12/31/09 and is valid on any full-price item; enter code "SHOEBLOG" at checkout to get your discount. (If you find a pair of shoes showing a rare 30% off the original price, the checkout will take the 30% discount already shown on that item instead of the lesser 25% of the promo code.)
So, what you really want to know is how can you be entered for a chance to win these festive Taryn Rose shoes, right?
That's the easy part. Leave your comment below, telling us what outfit or occasion you would wear these with. This comment will count as your contest entry (One comment per person, please).
Contest will run 12/01/09 – 12/15/09. The winner will be chosen by random number generator and announced in a separate blog entry.  The winner will need to provide their shoe size and shipping address when they are notified by Shoeblog (size chart for Italian/US sizes is here).
It has been a couple of weeks since I read this, but with Shomore's review of the new Kenneth Cole technology, I recalled this article in the Chicago Tribune about a showdown with four shoes and their comfort levels.   Here's the set up:  Ellen Warren purchased 4 pairs of shoes, then 4 women wore them, giving their assessment of each shoe.  Here are the shoes in comfort order.
Naturalizer's Magee $70 at Naturalizer.com
Cole Haan Air Lyric Maryjane pump  $182 at Zappos.com
Kenneth Cole Stud Bolt   was $175 at Kennethcole.com but this style isn't available anymore.  The Stud Bolt does not seem to be a part of the 925 series.  The "hype" mentions that the technology was 4 years in the making, but I couldn't find the shoe listing any longer.
Taryn Rose Diles $475 at Endless.com
It is a great article with wonderful information.  Read the entire article at Sexy Shoe Showdown.
posted by: HerberWellss in Christian Louboutin Shoes, Comfort Shoes, Eileen Shields, General, Loeffler Randall Shoes, Pumps, Sandals, Slingbacks, Taryn Rose Shoes, This week in shoes, Trend Alert, Zappos
When people ask me my age, I often give a smart mouth response.  "My mind thinks I am 25, but my knees think I am 85."  My old knees are a result of bad running mechanics, high heels and a really, really stupid mountain bike accident.   
My mind LOVES the five inch double platforms we have seen these past few seasons, however my knees are another matter.  Lately, they have been choosing how high my heels will be.  When you wear heels above 3 inches, it puts ALOT of stress on your knees.  So if you are wearing 4 1/2 inch heels everyday give me a call, I know a great orthopedic surgeon. 
Shomore told us about Andre Leon Talley's opinion about the absurd heights our designers are taking their heels.   Gioia Diliberto agrees. "It is nearly impossible to find a pretty, feminine shoe with a normally high heel, say three and a half inches."  [Huffington Post] 
I can relate.  I decided to see just what I could find with a heel 3.5 inches or less.  Let's see what I found.
Taryn Rose Canela  is a neat shoe with a cute ornament on the toe. The heel's width offers stability.  The foot bed had a high tech paddding.   Taryn Rose shoes have been kind to me because she is an orthopedic surgeon turned shoe designer.  She feels my pain.
 Chrisian Louboutin offers more than hidden platforms with 6 inch heels.  I am seriously considering purchasing these heels.
Christian Louboutin New Decoltissimo 85  $565 at Net-a-Porter.
  I really like these next shoes.  They are not gladiators (too tired), not too odd looking, but different enough to be interesting.  There is a red and grey combination that is attractive.
  Loeffler Randall Geneivieve $332 at Shopbop.com 
Another interesting design that isn't the same frilly, girly flower sandal we see everywhere. 
Eilene Shieldsfor Zero + Maria Cornejo Tia
Initially, I found nearly all shoes with less than 3.5 inch heels were either variations on the pump or a slide.  I looked a little harder and found some designers who had some unusual designs that met my 3.5 criteria.  Eilene Shields and Loeffler Randall had quite a few unusual designs.  Cole Haan has several feet friendly designs. 
If two fashion editors are talking about insane high shoes, then others are too.  I am willing to bet the designers will be offering more shoes in the mid-heel range soon.
posted by: brianka in Betsey Johnson, Boots, Endless, Flats, High heels, Hot Shoe Deals and Steals, Kate Spade Shoes, L.A.M.B., Mary Janes, Mules, Oxfords, Platforms, Pumps, Sandals, Slingbacks, Spring 2009 Shoes, Taryn Rose Shoes, This week in shoes, Via Spiga Shoes, Wedges, Zappos
Valentine's Day is just around the corner.  And, whether you have a romantic evening planned with your honey, or are having a single gal's 'stag' evening – any excuse to ogle red, hot, sexy shoes is okay in my book.
So, let's start with some sweet floral shoes that look like romantic bouquets: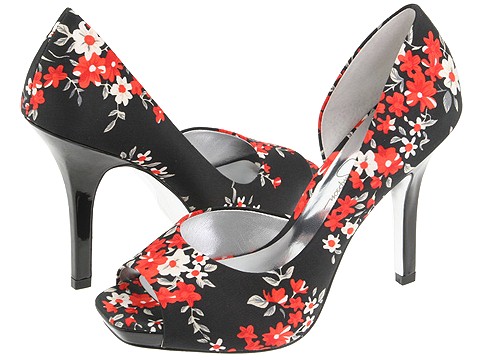 Jessica Simpson 'Josette' $39.99 @ Smartbargains
Kate Spade 'Gesture' $218.97 $297.95 @ Zappos
Kate Spade 'Carine' $161.70 $277.95 @ Zappos
Taryn Rose 'Betty' $315.96 $394.95@ Zappos  
Moving on to wearing your heart for everyone to see (though on your feet, not on your sleeve):
 Promiscuous 'Heartless' $55 @ Zappos
Promiscuous 'Enticing' $49 @ Zappos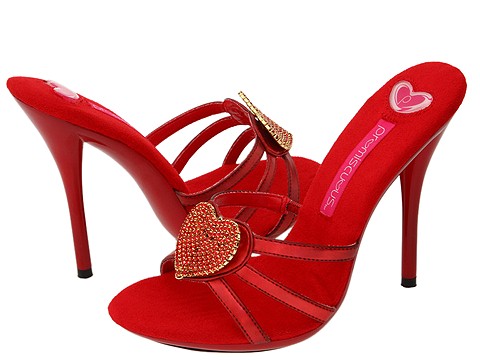 Promiscuous 'Fixation' $53.10 $59@ Zappos
Penthouse 509-Diora Stiletto $72.99 @ Snaz75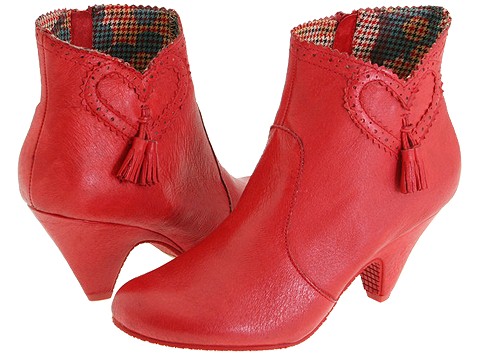 BC Footwear 'Cuttin and Scratchin' $80 $100@ Zappos
Betseyville 'Lenore' $82 $114@ Zappos
Well, whatever your Saturday has in store for you, there's always room for another pair of fabulous red shoes in any gal's closet: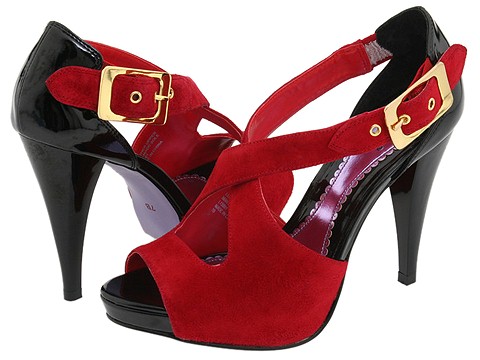 Luichiny 'Clara' $90.21 $134 @ Zappos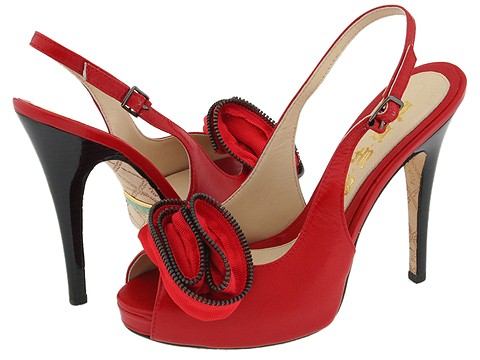 LAMB 'Sidney' $240.30 $319@ Zappos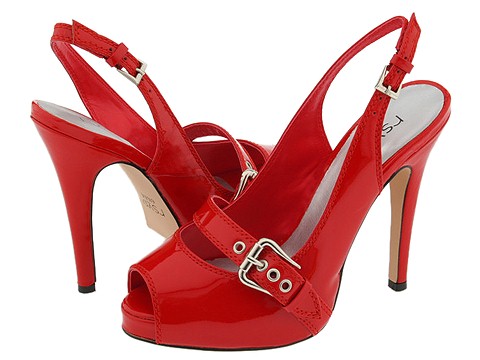 RSVP  'Rori' $59.55 $85@ Zappos
Sam Edelman 'XIla' $64.43 @ Endless & $85 $123@ Zappos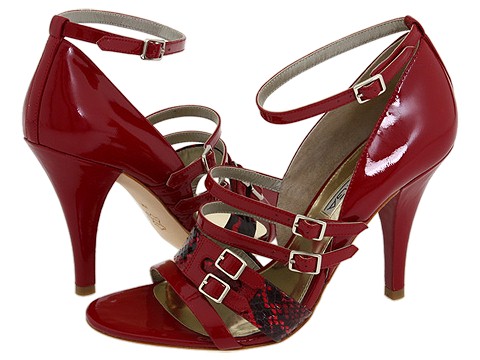 Via Spiga 'Mavis' $122 $197.95@ Zappos
Oh, and if you are one of those ladies who doesn't yet own a pair of red heels – What are you waiting for? Red is an absolutely fabulous wardrobe neutral that simply exudes confidence from the ground up.