Archive for the 'Tracy Reese Shoes' Category
Next up from Bryant Park… snoresville.
I can't say as there was a single shoe that caught my eye from the Monday shows.  That's just sad, is what that is.
Trends continue on, sure.  More oxford-styled platform peep-toes à la this one by Tracy Reese.
More color-blocking with chunky straps over the ankle and/or instep à la 
And more gray (see Tracy Reese again).
Marc Jacobs didn't wow me (or even make much of an impression at all, really) with his 80s-hued clunkers.
And Carolina Herrera just looks like she's making cheesy bad prom shoes or something last seen on the feet of a very unhappy bridesmaid.
*sigh*
Here's hoping tomorrow's crop is better.
Is there a name for these shoes? Full back coverage, but a bare thong in front? They seem to be the opposite of slingbacks (if footwear had antonyms, that is). For example:

Georgina Goodman sandals (with elasticized back and twist-tie thong), $325 at Barefoot Tess.
A very similar style comes from Irregular Choice–'Dirrty', available for $110 at Nordstrom, in black or 'snake':
By comparison, these below are positively business-like:

Delman 'Una' Sandal, $300 at Barefoo Tess. The Anthropologie team captures their oxymoronic nature when they dub these shoes 'Oxford thongs'.
Or how about these Tracy Reese fiery thongs, $338 at Anthropologie. What's that sticking from the back, you say? Why, I'm glad you asked:
Shark-teeth brass-detailed spurs!!! Now, that's original! And scary!
And these Cynthia Rowley 'Tuxedo' thongs sport a minimum-coverage quarter, positively risque compared to the styles above–$131 at Anthropologie. Strangely, they remind me of a penguin.
Here's a much more dressed-up version, the Azzaro Crystal sandal, $570 at Neiman Marcus.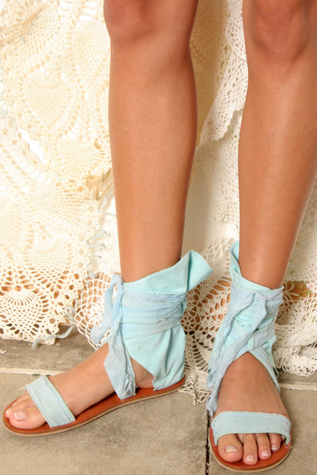 However, I urge you to stay away from some variations, like the model above, which are indeed tragic ($118 at Free People Boutique). Rather, take advantage of the current sales and snag this chic Michael Kors 'Gavi' sandal, only $70 at Bloomingdales (sadly, only in sizes 7 and 7.5).