Archive for the 'Shoe Accessories' Category
Ever seen a very simple concept and wondered why you didn't think of it yourself? I recently experienced this very reaction when approached to test drive Muleos. Muleos is basically a strap or tie which can be used to hold down your mules or backless shoes. According to the Muleos website, founder Michele Hickford formed the idea when her pants were getting caught under her heel. Michele borrowed a pair of men's shoelaces to hold down the heel and her first Muleos prototype was born.
Are you a visual person like me? Here is a very simplified version of how Muleos looks:
We personally tried out the straps and ties. Our impressions:
MULEOS STRAPS:
Sizing: Out of the bag, none of the holes on Muleos straps matched my fit. Apparently, my ankles are rather cubby (doh!) so I could only get the strap to wrap around once. I used a safety pin (didn't have a turkey skewer available as mentioned on the Muleos website) to create the holes myself. It would have been nice to have turnkey straps as I am simply not a very handy person and created two rather ugly looking holes for myself.
Durability: In the process of threading Muleos straps through the custom created holes, I was surprised the leather started to get a little worn out.
Functionality: Based on my limited test drive, Muleos did live up to the advertisement that my trousers would no longer get caught under my heel. I did find that Muleos slid around a bit and wondered if I worn these out for an extended period of time if I would need to perform adjustments throughout the evening.
Comfort: No issues; Leather was nice and soft.
Style: Such a simple concept, but amazingly, I did feel like my shoes received an updated look. Also, for a different look, try wearing Muleos over boots. Jitterbugbaby gave a test drive to the silver straps, and since it was still too chilly in New York to wear mules, she strapped on her Muleos over a pair of basic black leather boots. She says it worked out really well… definitely drew some interested glances from passersby, and added a bit of a change to her boots.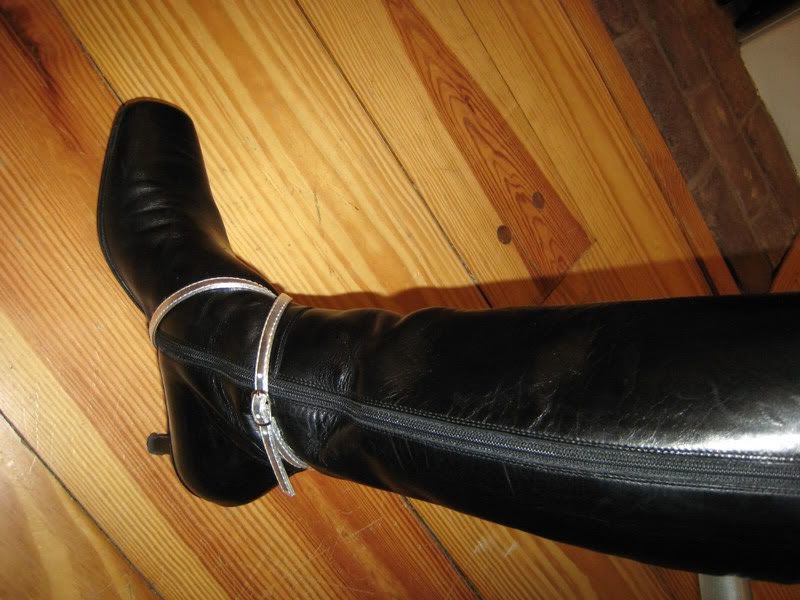 MULEOS TIES:
 

1. Ooooh, cute little packaging!!! Why, I believe that's an organza minipurse!!!

Let's see what's inside, shall we?

2. Oh, it's the same strings they used for the mini-purse tabs:

Oh, and the little Muleo logo thingies attached to the ribbon? Um… I don't know how to put it delicately, but they fell off the moment I took them out of the bag. There, I said it. And the ends were frayed–some broken, so I couldn't really reattach them. Huh.

3. The moment of truth:

I attached them according to the instructions in the picture. Well, sure, it's a simple, brilliant idea! These slides seem fonder of my heels now than ever. But something's bugging me. Is it be the flimsiness of the ribbon, which allows for a little jiggle in every step? Not sure. Oh, it's the lopsidedness of the tie. I only have one lonely little dangling metallic tip there. Clearly, that's disproportionate to the tie and it has to go. Plus it doesn't really stay attached (especially on cheap, satin-y materials). Plus, it will probably not go with the shoe, the outfit, or the wearer's tastes. I vote, get rid of them! Or redesign so they're lighter, more secure, and more color-coordinated to the tie itself.

4. Another last look:

Um, yeah. One last thing. If you are not exactly blessed with the ankles of a gazelle (ahem), this is probably not a good look for you. I'm just saying. Or rather, I'll let that picture do the talking!!!

Shoesense tried the ties and here's her saga, in pictures:
CONCLUSIONS:
If you are looking to add a little variety to your shoe collection but your shoe fund is low, consider Muleos straps. They are reasonably priced from $9.90 – $11.99. Straps can add some bells and whistles to your shoes and prevent the trousers from being annoyingly sandwiched between your heel and shoe. For the more crafty lot, consider visiting a fabric store and seeing if you can make your own version of the ties, perhaps with crystals, lace, or painted?
One final note: Michele personally contacted us and we have nothing but nice things to write about Muleos customer service. She was very gracious in accommodating the bloggers on Shoeblog and for that, we are very appreciative.