While window shopping over at Zappos recently, I was reminded of the rather lackluster footwear choices seen at this years Met Costume Institute Gala. So, while still fresh in my mind, here are some suggestions for footwear that is truly worthy of adorning your own inner super-hero, especially if there is any truth to the whole idea of superhero fashion trends for Fall 2008.
At the top of my list, D-squared2 is simply too perfect with this lightning-bolt heel: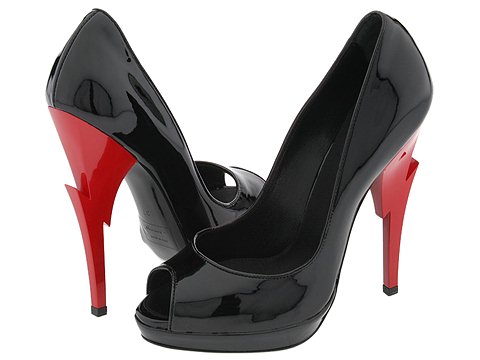 Recently worn by Rihanna, the "Flash 2″ by Dsquared2 are $669 at Zappos.com; It's the perfect way to indulge your Super side.
If you prefer a more budget-conscious and kitschy option for showing off your Super-hero girl-power, there's always the campy "Liberty" Go-Go boots offered by Ellie shoes:
Available through Amazon Marketplace shops starting at $42.00.
Now, where do I find a Lasso of Truth?