posted by: jitterbugbaby in Athletic Shoes, Comfort Shoes, Flats, Focus on the Shoe Brand, Mary Janes, Paul Green Shoes, Sandals, Shoes.com, Wedges, Zappos on April 9th, 2007
I know we've posted Paul Green shoes here before on several occasions, but I figured it was time to do a little feature on the brand (and officially make Focus on the Brand an ongoing column here on Shoeblog).
Paul Green is a Munich-based company that makes classy shoes that are mostly on the dressier end of the spectrum, although in the past few years, they've added some sportier shoes to their repertoire (see below). They've very well made, and usually do a very good job of staying up on current trends, while still making shoes that are comfortable and good for your feet. To my mind, the greatest feature of Paul Green shoes is that their lasts are all made with a focus on keeping your weight spread evenly around the footbed of the shoe. So, even in their higher heels (which top out around 3 inches), you're more likely to avoid that knives-to-the-balls-of-your-feet feeling at the end of a day on your feet in heels.
So, what's Paul Green got out there on the market right now? Let's take a look, shall we.
I'll start with the sandal I'm craving: the Sierra ($220 at Zappos). This sandal has just the right mix of Bohemian and dressy for me. It comes in this olive patent, brown patent, and black or white leather. Designers out there, take note: this is the way to do a wooden-soled shoe. Note the rubber sole along the bottom and the rubber section under the ball of your feet where the shoe should flex (and can't if it's made of wood).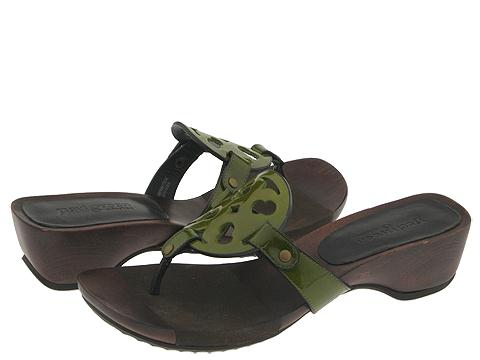 These black flats with the Mary Jane strap details are adorable and have a cute name to go along with them: Strappy ($275 at Shoes.com).
What was that I said earlier about some new sportier styles? I'm in love with the Salon ($249 at Zappos). Sure it comes in white or black, but how could anyone pass up this platinum/gold color? Talk about the perfect slip-on sporty errand-running shoe.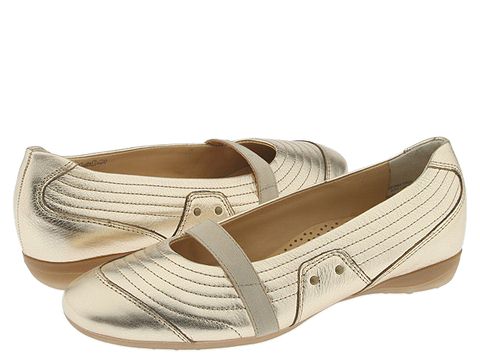 Are you still digging on the gladiator-inspired sandal trend that showed up everywhere last summer? I know it's a love it/hate it look, but I'm definitely in the love it camp. And this version, appropriately called Paris , is stylish enough that it's not going to be confused for something Maximus wore into the arena. Also, it's 50% off at Shoes.com, so you can snap it up for only $114.
Also on sale, this time at Zappos for $200, the Riot, a clever twist on the T-strap that doesn't actually include the ankle strap that can appear to cut your legs off at the ankle. Hey, this one could also fit into Shoesense's post about the masculine/feminine pseudo-spectator shoes.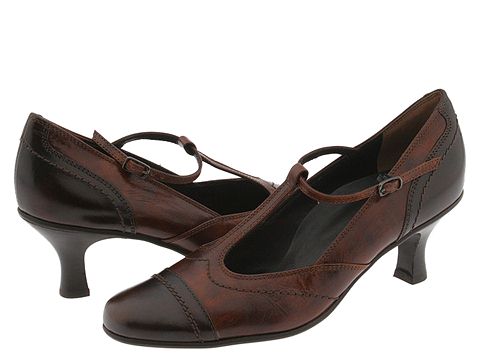 I could keep going for a long time, since there are lots and lots of Paul Green styles I love. But this gives you a sample of what's out there, and you can find more at Zappos and Shoes.com and plenty of other places. Go forth and shop for Paul Green's in comfort and style.