I'm skipping back inside from a glorious few days of beautiful perfect wonderful springtime weather, and thinking about shoes to go along with that weather. I posted about Simple Shoes a few days ago for Earth Day, but there's no problem in extending Earth Day, now is there? We could all be more responsible citizens of the world, couldn't we? I know I could. So here's a post about another eco-friendly company that makes great stylish, fun shoes; Terra Plana.
What makes Terra Plana so eco-friendly? you ask. Well, to start, they're committed to using recycled materials in their shoes, including leather car seat scraps, old quilts and clothes, and recycled rubber for some of their soles (that is, the soles that don't come from natural latex sap). They're also all about the wearability and lasting quality of their shoes. After all, their mission statement is that "Terra Plana aims to be the most innovative and sustainable designer shoe brand in the world." They focus on comfort and anatomical design as well as quality materials that will last (like vegetable-dyed leathers that don't use harsh chemicals).
And these babies are COMFORTABLE!! We used to sell them in the shoe store I once worked in, and while I never bought a pair (it was before the recent Terra Plana style revolution), I certainly tried many on, with much ooh-ing and aah-ing over the comfort factor. A lot of that comes from the way their materials are put together, with attention to the details, so things like rough edges are smoothed out and proportions are natural on your feet.
If you check out their website, they've got a great icon glossary that explains a lot of their most interesting features, and on the "shop" page, you can see those icons put to good use to tell you about the features of each style.
As far as style is concerned, they have a sort of ecclectic, funky look that ranges from super casual rubber sandals like the Dopie (30 pounds UK) (which has a cult following of its own)
to the more refined Mumbai ($103 at Zappos), which is just perfect for those springtime picnics and bike rides.
They also do some dressier shoes that still have a unique style to them, everything from flats like the cute-as-a-button Grass ($150 at Zappos)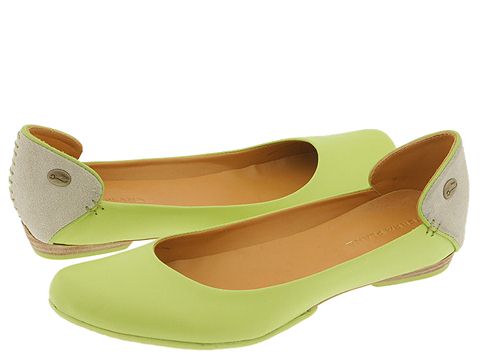 to low heels like the Doll, here in a yummy sherbet coral color. This style you can get in this color on the Terra Plana website for 85 pounds UK or in other colors at Zappos for $135-151.
And they do higher heels, too. Look at this floral-print fabric-upper on the Juniper (with a 3" heel), which is 95 pounds UK at the Terra Plana site or $148-161 at Zappos (again, in other colors).
And here's an ankle-tie version of the Juniper, the Helena, which is 90 pounds UK.
Remember what I said about comfort up at the top there? Well, take a peek at the soles of that Helena heel.
Those certainly look more durable than your standard dress shoe's flat-as-a-pancake leather sole. And more shock absorption and traction, too!
Hats off to you, Terra Plana! Keep up the good work.