I'm generally not much for "classic" when it comes to shoe styling. I like my shoes to have something a little different about them. Could be an interesting heel shape or a unique strap design or an out-of-the-ordinary material or pattern. Take a basic shoe idea (say, a kitten heel d'orsay peep toe pump with an ankle strap), and do it in black leather… I'm probably not interested. But swap the black leather for a graphic print satin, and all of a sudden I'm covetous like woah. Like the Nine West Sabyne.
This pair is suddenly completely to die for in my book. So, I thought I'd go hunting around for other graphically interesting shoes. They're so evocative of very specific types of people and places.
These Franco Sarto Avanti's are like the reverse of an assignment from a 2D design class I took in college where we had to make an eye-catching design using only a white background and a single black dot.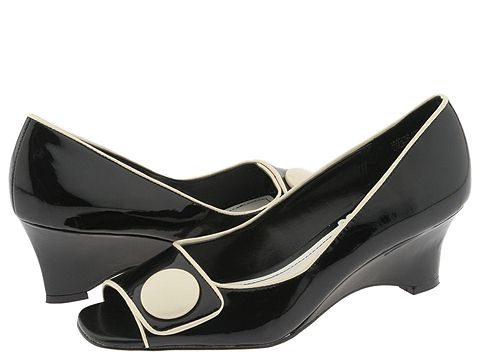 A few assignments later, as we worked on more techniques, we were able to use more combinations of black and white and dots in different sizes and shapes. Rather like these Bandolino Shira peep-toes.
Of course, no survey of graphic shoes is complete without the master of the graphic print, Emilio Pucci. These wedges with the color block heel design make me think of groovy 70s decor with round lamp shades and plush shag carpeting.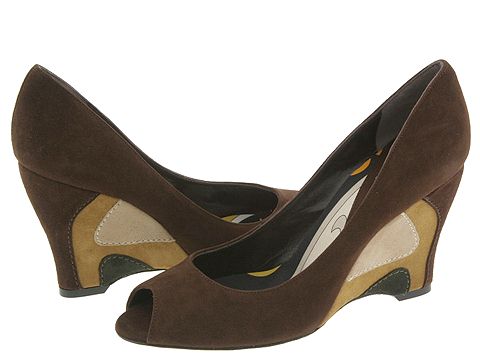 And these t-strap sandals belong on the feet of a European socialite at a chic soiree for the creme de la creme of high society.
If you're an 80s kid and always harbored a secret dream to be Rainbow Brite, look no farther than these rainbow-embellished
Celestial Keds skimmers
.
With graphic print shoes, you never get just a basic. There's always some story your imagination can concoct about them. And that's why I love em.