Ok, so some of you may know that I have like a million jobs. Really. Just ask me. At any rate, one of the glitzier ones is that of production assistant for a fashion production company. And by glitzy I mean that average tasks involve being on set during photoshoots and running out to pick up whatever the photographer or stylist might need. Most memorably, I have been sent to fetch body-length human hair and fake boobs (called "chicken cutlets" if ya'll wanna learn a little industry speak.
But I digress. I recently worked at a photo shoot for a very high end hair and makeup brand. I will not divulge their name because I am really not sure if I am supposed to. But for you clever folk out there it translates to "Real Gold" from the French. This particular client hires stylists who bring in really incredible stuff. It's so cutting edge, I get paper cuts (da dum chhhhssss).
 To demonstrate my point, a tableau:
Take a breath now:
YSL, Bottega Veneta, Balenciaga, Louboutin, Louboutin, Louboutin, Givenchy, Louboutin, Balenciaga
Light headed yet?
I did a little research in case any of feel like spending your life savings on a piece of fashion gold.
 Shoe Beauty #1
These are my absolute favorite. If you want to take the plunge, these would be the ones to do it for. I was trying to figure out how to cram these suckers into my tiny clutch or under my blouse. There was much self-recrimination for not being into the whole peasant blouse, tons-of-excess-fabric thing. Behold the grail.
These are the YSL High Heel Lace Up Sandals with Jeweled Medallion in Black Patent. They are a whopping $895 dollars on ysl.com even now as the wintry winds begin the blow down Broadway. But so what. They. Are. Gorgeous.
Shoe Beauty #2
These Balenciaga Gladiator Sandals are obviously not available. The Sex and the City gladiator rampage of '08 wiped the Internet clean of these highly coveted critters.
However, because I aim to help the readers who are looking to cash in on the end-of summer sales, here is a stand-in which is significantly cheaper that the 600+ price tag on the original. These Vaneli Gladiator Sandals are much cheaper at the low, low price of only 88.79.
Shoe Beauty #3
Pretty, pretty Balenciaga. How I love how you shine through the dark of the night. You add luster to my evening. Unfortunately, these are also no longer available and I couldn't find a worthy substitute, but I will give you a close-up for contemplation.
 Shoe Beauties #4, #5, #6, and #7
These assorted black pumps are the collective Little Black Dress of the shoe world.
Pictured here is the Christian Louboutin hidden platform pump, $700 courtesy of Neimanmarcus.com. I just think that when you wear these you can't help but feel beautiful, sophisticated, glamorous, and all those other words that the fashion mags list under the stuff they want to sell you.
Shoe Beauties #8 and #9
Booties are kind of my new thing. The first year that they entered the world of trends I disdained them, looking down on them as underdeveloped boots or overdeveloped heels. However, I have reassessed the situation and realized that they are most excellent.
Shiny, Louboutin booties are an excellent way to get my thinking on track.
And the less shiny Balenciaga version keeps me on the wagon.
Though I couldn't find either of these. I found this Balenciaga stand-in. They really look very little like either of them, but what's another shoe to lust after among friends?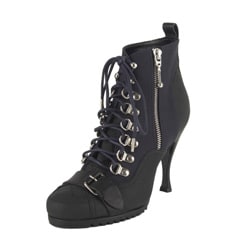 They are on sale at overstock.com for 569.99, still pricey, but an excellent discount from the original price of 1195.00.
The weird looks the stylist gave me as I crouched around the shoes shooting photos were totally worth it.