Since I (and probably a large portion of other people on the planet right now) have Harry Potter on the brain totally and completely, I figure let's take a quick peek at what the girls of the Harry Potter movies have been wearing around town. Now, for the sake of fashion, I'm only looking at the past two films' releases (Goblet of Fire and Order of the Phoenix), since before that, the girls were mostly wearing cute flats befitting their ages as pre-teens. But for the past two films, there have been some interesting shoes worn by our three case studies for today: Emma Watson (aka Hermione Granger), Katie Leung (aka Cho Chang), and Bonnie Wright (aka Ginny Weasley).
First up: Bonnie
Here she is at the world premiere of Harry Potter and the Goblet of Fire in 2005 working the classic black dress/red shoe look.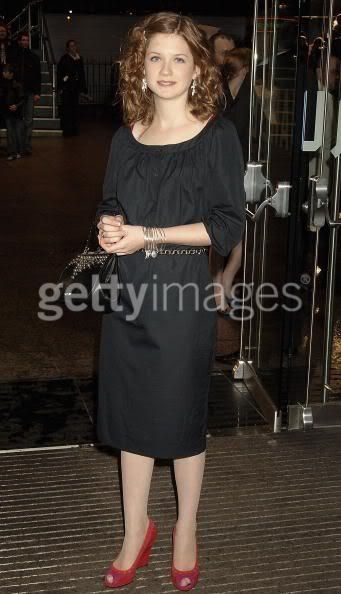 While I think the dress and the hair and the makeup are nice, they seem too old for her, but I do love those shoes. Redheads wearing read is tough, but that flash of red on her feet… nicely done.
Now, here's Bonnie at the Order of the Phoenix UK premiere earlier this month.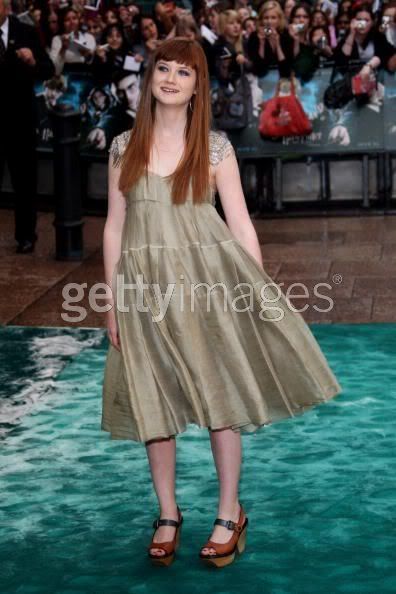 This free-spirit/flower-child look isn't working for me. She's got all the trimmings of it done right… long hair ironed straight, chunky bangs, smoky eyes, flowing dress, wood (or maybe wood-patterned) platforms. She's doing the look right… it's just not working for me. The dress doesn't work for me at all, but since this is Shoeblog, I'll focus on my problem with the shoes: they look like schoolgirl mary-janes with the toes cut off and a platform stuck on. Not a good look in my book.
Let's see how Katie stacks up.
Here she is at that same Goblet of Fire premiere in 2005.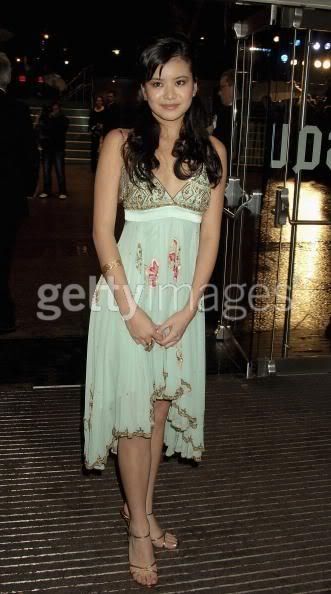 She looks lovely, but a sort of average lovely, in my book. There's nothing wrong at all with her outfit, but it's not knocking me out. However, I will give her that the shoes are quite well chosen to work with that dress and her other jewelry. Bonus points for the armband, which is always an interesting accessory choice.
And then, here's Katie at the Order of the Phoenix UK premiere this month.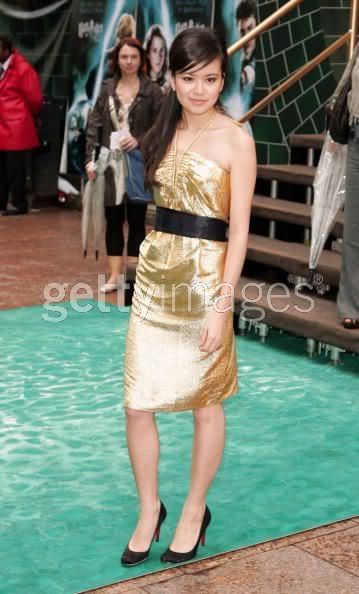 Oo la la! Love the hair, love the belted dress, love the Louboutins. Katie's workin' it! Classic, simple, elegant, tres chic!
And how does Ms. Watson compare to these two?
Well, she doesn't start off well.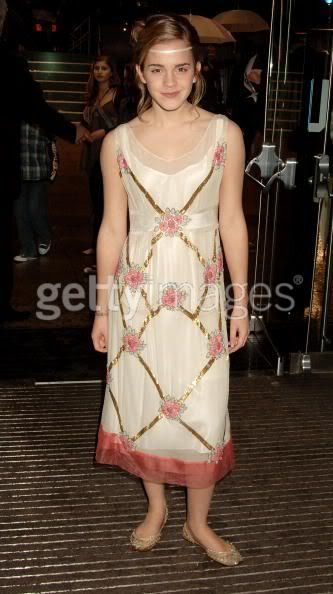 Here she is in 2005 at the Goblet of Fire premiere. While I give her props for both the choice of flats (and gold sparkly flats no less) and the flapper-inspired headband, the dress is the wrong length for her, and she ends up looking like she's wearing a sack made of upholstery fabric from Versailles.
But give her a couple years, and it all starts looking up.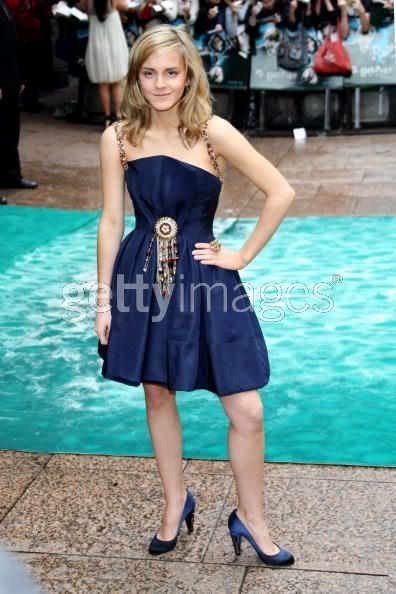 Here's Emma at the UK premiere of Order of the Phoenix at the beginning of July. While I've seen mixed reviews of this outfit, I give it two thumbs up. It's interesting and fresh, while still being appropriately young for Emma to pull off. And I don't know who designed the shoes, but they have a sort of Marc Jacobs aesthetic going on with the round toe and the thicker heel. And I can't argue with shoes that are Marc Jacobs-esque.
Plus, Emma gets an extra picture, because she looks so smashing at the LA Order of the Phoenix premiere.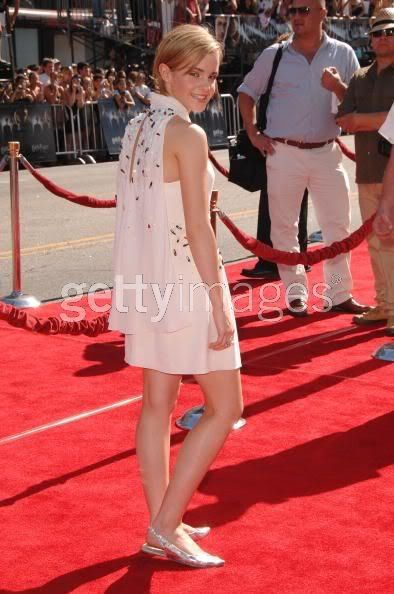 Love it! It's fresh and bright and young and stylish. Love the dress with its mini train there, and love the silver slingback flats. They're the perfect shoes for that dress, and the perfect shoes for dressing up summertime fashions. Nicely done, Emma. I think she's a great pick as the new face of Chanel, and if she keeps showing up to events dressed like this, I can only imagine others will start to agree.
(all photos courtesy of Getty)