Hello Shoe Lovers –
Let me introduce the new kid on the block: Me. You can call me twinkletoes. I am a California transplant to the great shoe-tropolis: Manhattan. My new life has required that I make the transition from my all-stilettos-all-the-time, car-happy past to the these-boots-are-made-for-walking, train-based system of my new home. The mental switch from form over function to a melding of the two has been a tough one for me. My hankering for high heels and my predilection for platforms is not going away easily. However, I've come a long way, and my podiatrist thanks me for it. Who knew New York could actually be beneficial to health?
In light of this, I am going to share with you my ideal New York walking shoes. They have all three C's: cute, classy, and comfortable. They are even completely affordable! If you will direct your peepers below:
Just kidding. I mean I LOVE these, but comfortable they are not. Try walking 20 blocks in these babies. And at $490, these Miu Miu Open-Back Suede Sandals, available on Net-a-Porter will make a pretty big hole in your wallet.
Here are my real New York trekkers: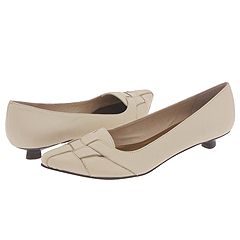 Et voila! the Matisse Sable. These kitten-heeled honeys have been my tried and true companions for the last two years. Here's the odd thing: they are almost always available. I have purchased three pairs at different points in time and have never had trouble finding them. Not only that, they come in several different colors (shown here in Ivory). At Zappos.com, they are an affordable $100, with four color options. I'll tell you a secret though: these puppies are all over the internet and the price varies considerably. I paid $100 for the first pair and about $75 for the last two. The price depends on where you get them and the timeliness of your search. Incredibly comfortable and versatile, they have taken me up and down Broadway time and time again. If the Miu Miu sandals are the alluring bad boy, these are the guy you take home to meet Mom and Dad.