posted by: shoesense in Flats on May 3rd, 2007
I looked like a maniac, of course, with my hair all wet, my shoes sopping. My shoes, damn fool that I am, were Mexican huaraches, plantlike sieves not fit for the rainy night of America and the raw road night. (Jack Kerouac in On the Road, 1957)
Huaraches are the sandal of choice in Latin America, coming to us via Mexico. Their traditional incarnation sports a leather-woven upper and rubber soles made from recycled tires. Not only are they environmentally friendly, but they are also hand-made (or at least, they should be). Simple, comfortable, versatile, and long-lasting, huaraches enjoy a large following.
I personally prefer this polished, girled-up version from Nana, woven with grosgrain ribbon.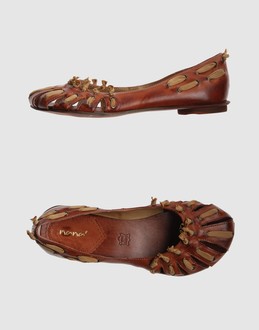 These are $128 at Anthropologie but only $85 on Yoox.