OK, while I agree that we would all be better off if the word 'Intervention' were to be placed on a 6-month moratorium, it is exactly what I am asking for here.
My budget – and Macy's card, would be truly grateful.
My conundrum?
This boot: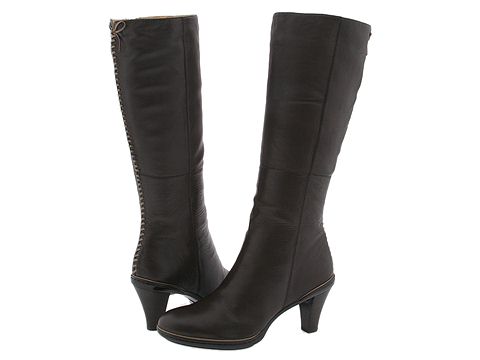 The Sofft Tyla (Or Tyla II, depending on whether it's the leather or suede version)
Innocuous enough, wouldn't you think?
But, I am forced to avoid the local Macy's (Which is not only the local 'High-end store', but also subject to being referred to as The Bon by pretty much, well, everyone – maybe that's a Northwest thing?) lest I find myself once again falling again under it's strangely hypnotic spell.
What is it about this boot?
Well, it's by Sofft, so the whole comfort for all-day wear is definitely a plus. But, that's not enough to explain it's strange hold on me. No, I really think it is this:
Yep! It's definitely this corset-styled whip-stitching across the back seam.  I am also strongly enamoured of the slight color contrast of the tan against the shaft's burgundy-brown leather … as well as the hint of playful attitude it brings to an otherwise classic and conservative boot. It also helps that at 3-inches, the height is a perfect balance of walkable without losing that oh so desirable hint of sex appeal.
Oh, and the kicker is that if I use the Macy's coupon that I received in the mail last week, it is $25 off the current in-store price of $105 (full retail started at $175!). That's $80 - and an almost unbearable temptation to pass up.
Added to all of this is the pretty, paisley sole: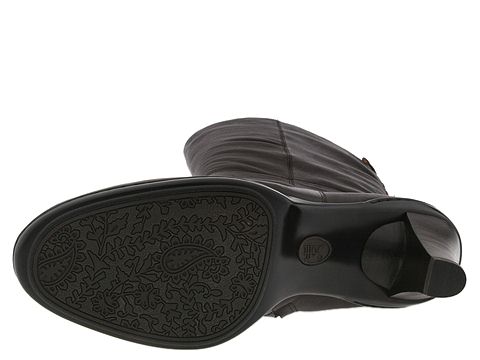 That's just 'icing' on an almost irresistible cake.
Somebody stop me. Really.