posted by: jitterbugbaby in General on July 5th, 2007
OK, so bling is an overused word these days. But I told you there was a company marketing diamond-encrusted accessories for your sneakers, what else would you call it?
Well, you might call it Kickbars, which is what the Southern California based company that makes these luxe jewelry bits for your shoes (or your wrist, or your neck, or wherever else you can think to wear these).
Basically, they're exactly what the title says: bars for your kicks. You can order up different colors and they come in two sizes (Kickbars and Jr. Kickbars), but the concept is the same.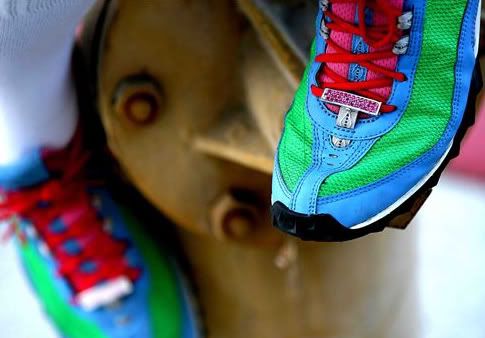 To sooth your consciences, there's also a little note on the site saying they do their utmost to avoid contributing to the market for conflict diamonds.
So, what will these little gems set you back? Well, they're diamonds, so they're not cheap, but they're convertible, so for $7,500 (or $6,500 for Jr. Kickbars, or based on market price for the colored diamonds) this could be your new shoe accessory and a new piece of diamond jewelry all in one.