It's that time again, ladies (and gents). New York Fashion Week, where chic is on display at Bryant Park for a week of runway shows and glam to the max.
And we'd hardly be worth our soles at Shoeblog if we didn't bring you excellent coverage of what's happening over in the tents. Yesterday was the first day of shows, so let me present some of the footwear highlights, with help from Getty.
I can't say as any of the shoes I've seen from yesterday really blow me away, and none of them horrify me with their hideosity (I don't care if that's a made-up word). But then again, it was only the first day of shows, so there's plenty of time for more. But some interesting highlights are here for your viewing pleasure.
Check out L.A.M.B.'s backstage layout of shoes. Sure, this is Spring 08, but look at all that oxford styling on those heels. Looks like this fall's trend of menswear detailing isn't going away anytime soon. I do love those pewter metallic ones in the back row.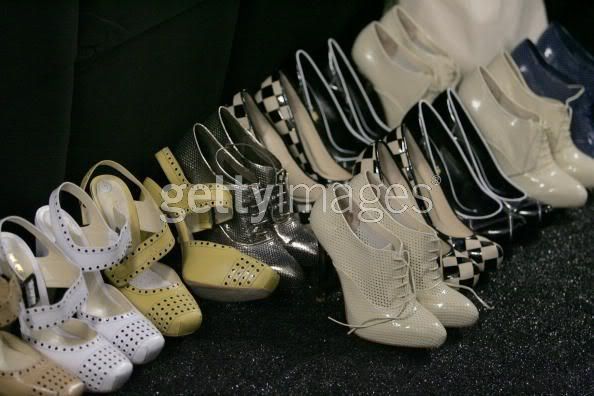 And speaking of pewter metallic shoes I like, check out these pumps at the BCBG MaxAzria show. Not real groundbreaking, sure, but classy and elegant nonetheless. I like the sort of patchwork effect from the different finishes on the leather.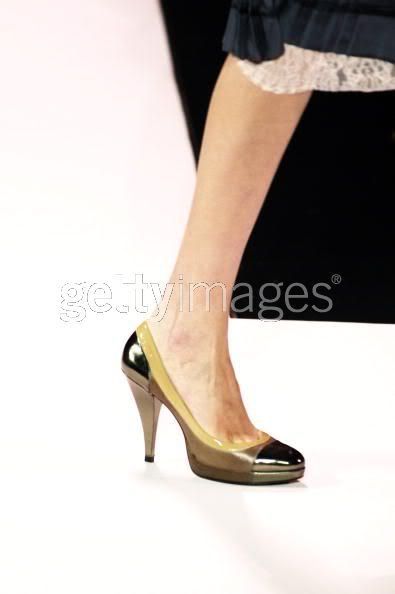 Toni Maticevski brings us gladiator/peasant-by-way-of-st-tropez platform sandals. And moving away from the shoes momentarily, I must say that I do love this dress with the belt. But the poor model didn't even get time to remove her eye mask from her plane flight to New York before they pushed her out on stage!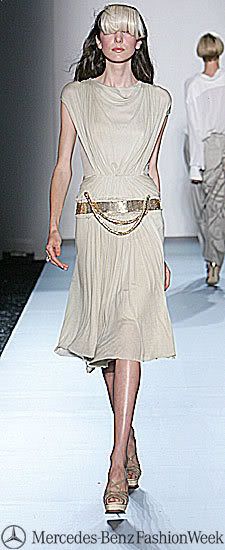 We've mentioned peep-toe boots here before, with mixed results, but I like this slouchy version from the Abaete show. A little bit cool sophistication, a little bit punk rock. And I love the outfit, too (although in a purely fashion-admirer way… it's hardly something I could wear).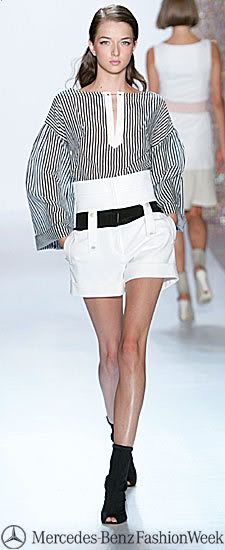 And finally, check out these Alexandre Herchcovitch shoes. One part oxford, one part elf shoe, one part wooden clog, and voila! I like em (and the red ones coming down the runway behind).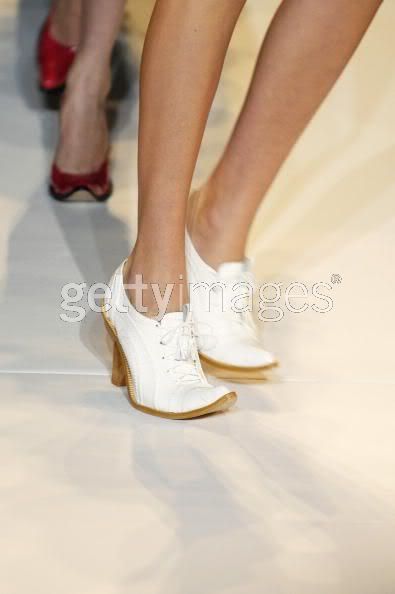 Stay tuned for tomorrow's report about the next run of shows… and shoes.