posted by: brianka in Designer Shoe Déja Vu, Endless, Heels.com, High heels, Hot Shoe Deals and Steals, Oxfords, Pumps, Shoes.com, Steve Madden Shoes, Zappos on July 21st, 2008
I loved the Miu Miu "Pop" brogues that came out last fall. With subtle color-block styling, including topstitching and wingtip styling, it was a wonderfully feminine version of a classic menswear shoe. (See Manolo's take here):
There are a few isolated sizes & styles available at Net-a-porter and Bluefly- but Bluefly is already selling out some styles even as I am writing this, so these will not be around for long, even at discounted prices that are still around $500.
These were apparently too original to stay original.   I am in true awe at the sheer mass of imitations that have spawned from these fun and elegant originals. 
Be warned, some are quite cute, but others border on a level of "What were they thinking?" that leaves me shaking my head in confusion.
So, in no particular order:
Contestant #1 –  Guess by Marciano "Yerex" $125 at Shoes.com & $129 at Zappos.com (Not too extreme, and I kind of like the slender heel):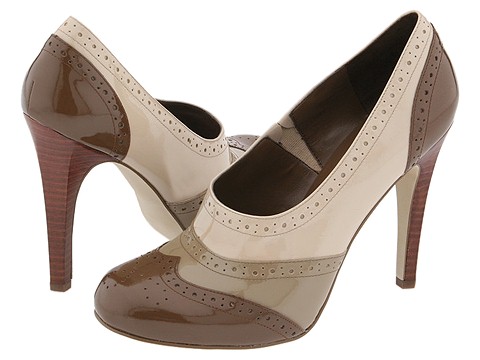 Contestant #2 -  Two Lips  "Cotton Club" $79 at Shoes.com and Zappos.com (Not sure I'm really 'feeling' the antiqued/brushed metal finish.):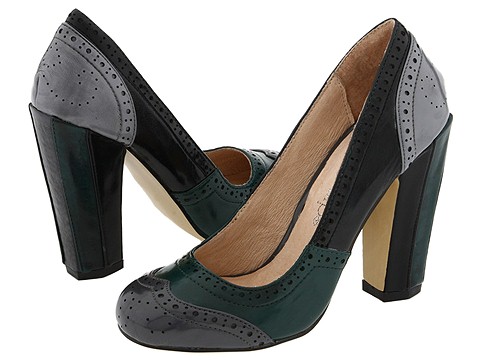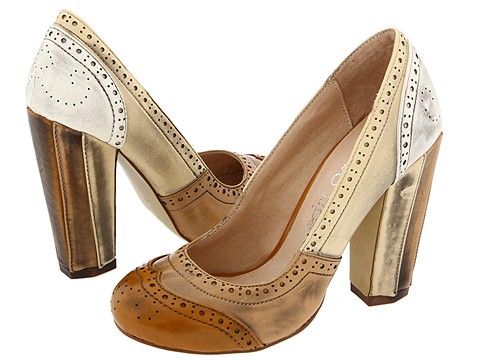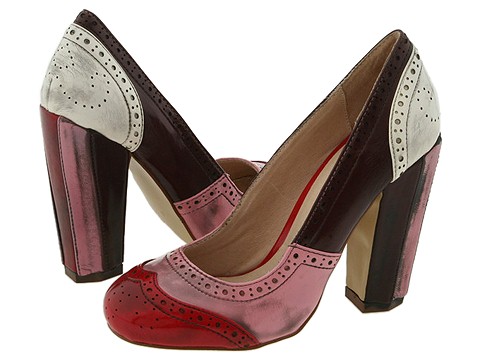 Contestant #3 -  Hale Bob "Imagine" $87.47 - $124.95 at Endless.com, Heels.com & Shoes.com. (I'm okay with the metallic color balance, but the red is just too much for me.)
Contestant #4 – Dollhouse with the "Warhole" and "Rembrandt" styles $69.99 at Heels.com for either style. (Honestly, I do like the blue combo as it has enough differences to make it a nice variation on the original idea.)
Contestant #5 – Bamboo 'Hanete01′ $34.99 at Cutesyshoes  (I can't ever see myself wearing this cotton-candy color combo.):
And, no,  I have not forgotten Steve Madden, master style imitator; He has an honorable mention for the "Specs" which have apparently sold out at most online retailers.
So, how do we feel about these?