Yes, even though it seems to fly in the face of our shared obsession here at Shoeblog, I avoided purchasing shoes this glorious Memorial Day weekend while shopping on Newbury St in Boston.
Which shoes did I narrowly avoid, might you ask? Several. Here, I'll illustrate.
First up: the Dansko Nyla ($124)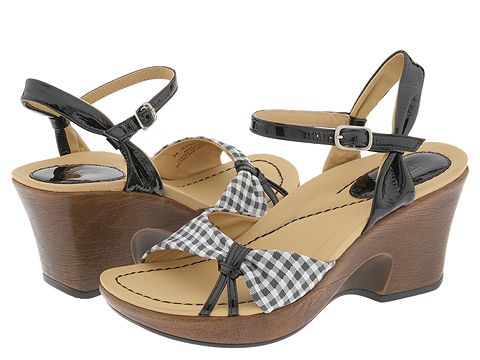 It's even cuter in person. The patent leather (all the black parts) is shinier, and the whole thing has a delicious summer vibe. It also comes in an adorable coral color, which is even more tempting to me.
Next temptation: Cole Haan G Series Keegan slip-on ($165)
I'm a sucker for G Series shoes, and this one has a removable insole, so I could put my orthotics in it. Plus the gold and the maroon patent leather… mmmm. It was a close call.
And finally, the last temptation (not of Christ, but of me): these Camper Twins slip ons ($139)
I've blogged about these before, but I saw them in the Camper store and had to try them on. And you know what… they look cheaper in person. Yes, they were comfy, but the leather didn't look all that great, and the "sunglasses" appliques looked none too classy, either. They didn't have quite the sense of whimsy and fun I thought they would have.
So, the Campers ended up being less tempting, but the other two pairs… well, let's just say I'm now scouring the internet to try and find them on sale anywhere. Anyone who has luck on that front, let me know. The temptation might prove too much for me.