The 79th Annual Academy Awards have now come and gone, and I must say that it was the most entertaining Oscar broadcast in recent memory. The interpretive dancing, the sound effects choir, the song by Jack Black, Will Ferrell, and John C. Reilly, Ellen as host… all deserving of A+'s in my book.
And due to some creative and asymmetrical hemlines, we even got a peak at some shoes on the red carpet. Apart from Anika Noni Rose in the Stuart Weitzman shoes of 2007 (see Shoesense's post below), there was a lot of metallic going on in the shoes this year (and every other year… metallic evening shoes is a classic trend as old as the hills, and never gets tired).
So, without further ado, I bring you the 79th Annual Academy Awards, Shoe Edition. Much like the Science and Technical awards that are given out at a separate reception, this set of awards rewards achievements in a specialized area.
The Oscar for Easiest Shoes to See goes to Cameron Diaz: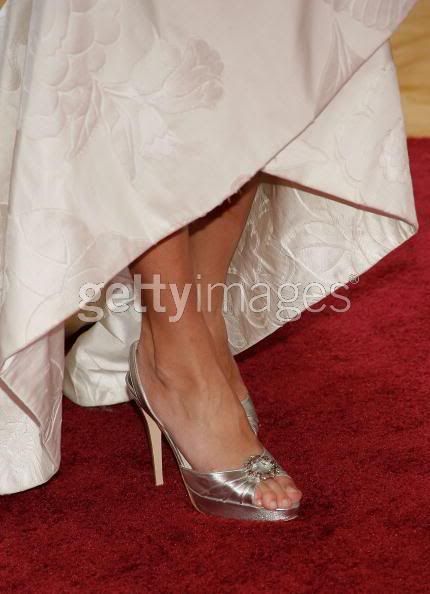 Following the current trend of platform heels, which I think is very nice looking. Gives the shoes a feel of Old Hollywood glamour. I like Cam's shoes much more than her dress, I've gotta say. And thank you, Ms. Diaz for wearing something that lets us see your feet nice and clearly.
Also nominated in the same category as Cameron was Beyonce Knowles, wearing a dress I couldn't stand, but some more nice sparkly silver platform heels.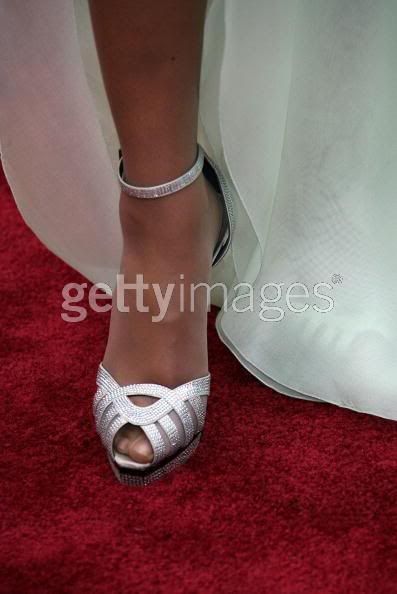 These are a bit less interesting to me than Cameron's, but still quite nice. Again, much nicer than that horrid dress that looked like it had been bought as a bathing suit cover up in a beach shack on St. Thomas.
The Oscar for Most Age Appropriate Use of Non-Typical Eveningwear Shoe goes to Ivana Baquero (the girl from Pan's Labyrinth) for these white boots: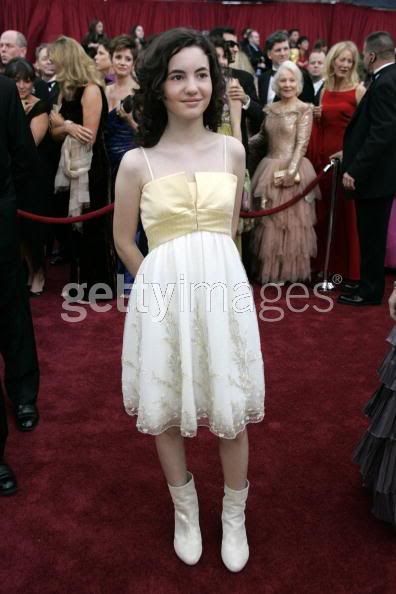 Off the red carpet, these wouldn't have stood out to me, but on the red carpet, they're a choice that's certainly off the beaten path. And I'm a big fan of wearing ankle/low boots with short dresses. This look manages to be age appropriate and stylish all at once. Well done, Ivana!
The Oscar for Most Age Inappropriate Shoes on an Entirely Overrated Celebrity goes to Patricia Field for these tacky snakeskin multi-color monstrosities: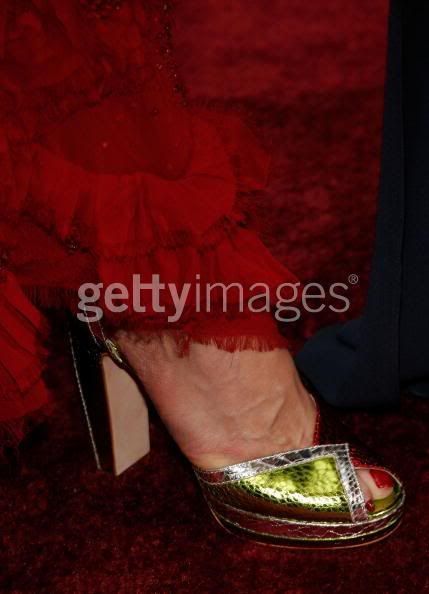 I'm deliberately sparing you the rest of her outfit, which was further accessorized by a giant Bulgari necklace that looked like a huge penny flattened on the railroad tracks. These shoes look like they've come straight from a drag queen revue. Perfect in exaggerated stage performance? Maybe. On the red carpet? I think not.
The Oscar for Best Use of Metallic Shoes (Non-Silver) goes to the newly-minted best supporting actress, Jennifer Hudson for these bronze colored heels: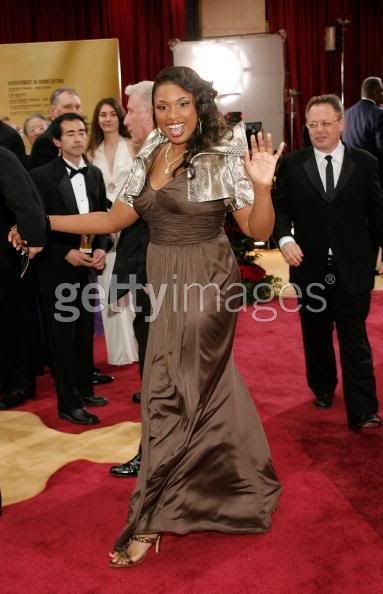 They're none too interesting in and of themselves, and again, I hate the dress. Don't even get me started on that jacket that looks like it's been made out of those silver light reflectors that professional photographers use. But the shoes themselves were a nice change from all the silver.
The Oscar for Best Shoes Paired with Worst Dress goes to Meryl Streep for her black ballerina-inspired platform heels: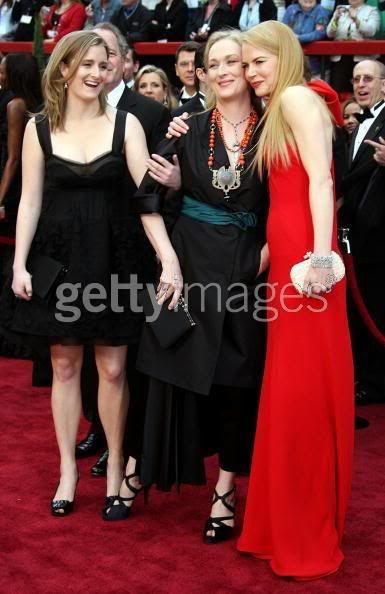 I really do love these shoes. They're probably the ones I'd choose to wear of all the shoes posted here. And I ADORE Meryl Streep. Not just as an actress, but also for her irreverent sense of humor and spunky personality. Her fashion choices, though, often leave me perplexed. And this one is no exception. So I'll just focus on the shoes and congratulate her on those.
And finally, the Oscar for Patron Saint of Lovely AND Comfortable Shoes goes to the one and only Taryn Rose.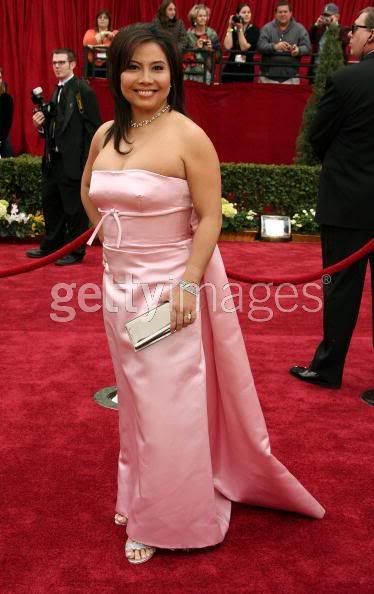 Yes, the woman we all love, admire, and thank, who provides shoes to the stars (Angela Bassett and Oprah have been seen multiple times in her shoes) as well as the masses (well… the masses who can afford it) that are both beautiful and comfy. I only wish we could see what's on her feet beyond that tantalizing glimpse of pale sandal.
Ah well, there's always next year.