It is probably safe to say that I am not alone in my obsessive anticipation of tomorrow's season premier for Project Runway Season 5.  I can hardly bear the wait.
As an enthusiastic (if occasional) seamstress, I am inspired by the design challenges as well as the fantastic footwear. And what footwear it was last season. My personal favorite, the "Marie Antoinette" by Christian Dior is still available at Bluefly; today only it is $440.99, an additional 10% off the normal $489.99.
And that they have it available in a 7.5 is tempting. But I have already purchased a lower-end beaded slide by Naughty Monkey while it was on clearance earlier this year:
And, while I have been unable to find anyone still selling the Naughty Monkey shoe, you can still grab the similar "Diana" by Beverly Feldman care of Zappos for $152.10 in Black Crepe (below) or  Python/Silver (not pictured):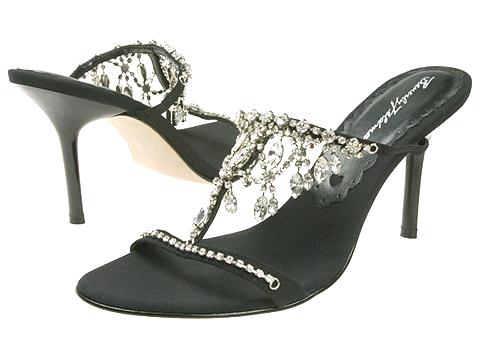 As for me, It looks like I'm probably covered on swaggy beaded sandals for awhile.
So, the real Shoeblog question:  What new shoe will replace last season's "Patron Shoe" of Project Runway?
And now, in anticipation of tomorrow's season premier, I took a sneak peak at this season's hopefuls.
I find myself particularly excited because 3 of these designers hail from towns that I have at various times called "Home".
It could be interesting to see what these folks from agricultural towns and small-town Americal have to offer.
Hope it's at least as fun as last season.