posted by: jitterbugbaby in High heels on February 27th, 2007
We all love shoes, right? And sure, sometimes we joke about having shoe fetishes, but often that phrase is used for exaggeration.
Today, let's give a thought to actual fetish footwear.
Personally, while these shoes sometimes make my feet hurt with sympathy pains, I find fetish shoes to be fascinating. Like works of art. Their shapes are so different from day-to-day footwear that I sort of divorce them from the category of "shoes" and look at them purely for their shapes. And since I was a ballerina for years and still drool over a beautiful foot en pointe, the shapes that fetish shoes make (especially those in the fetish footwear category "ballet shoes") are beautiful to me.
To follow the ballet shoe analogy, take a look at these "Ninfea" shoes by a company called Punitive Shoes
or these, the "Galatea"
But it's not just the ballet fetish shoes that are so interesting to me. Look at these drag queen shoes (by the same company), the "Prince Albert"
or these spherical stacked "Xixi" heels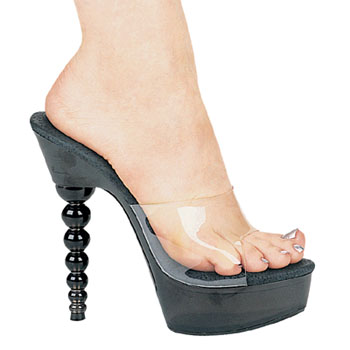 They're like sculpture.
I think the argument can be made that high heel shoes are a subtler and more pervasive manifestation of shoe fetishization. I mean, they're intended to keep the wearer from walking normally and put him/her off balance. Fetish shoes are about the same purpose, just taken to a higher level. Not to mention the fact that buying fetish shoes implies a mutual consent between wearer and observer that buying and wearing mass-market fashion heels doesn't.
Footwear subculture… very interesting.