Do you know what new trend in shoes fascinates me? It's the open-toed heel over tights and/or socks look. It was all over fashion week and it is certainly prevalent on the streets of New York.
Let me tell you a story.
Many years ago, when I was young and carefree, I attended a rather uptight, brick-walled college just outside of Boston. The students of said college were rather….tighty-laced. OK, not all of them. No stereotype works for everybody, but some were. At any rate, I've always had my own ideas about fashion and adapted them to suit me. I rarely take things like "weather" and "comfort" into account, but when you go from California to Boston and winter hits you hard, you kinda have to adjust just a little. That first winter at school, I decided that the logical way to deal with winter would be to pair my open-toed shoes with tights and thereby avoid having to spend either of the two pennies I had to rub together on new dressy shoes (broke college students of the world….HOLLLLLAH!). I could also combat the frosbite that was threatening my toes this way. Good compromise, yes? The resounding answer, in the late 90s, was a resounding NO. I eventually caved to peer pressure and horded my work-study money for new shoes, but I was not a happy camper.
The modern equivalent shoe from my sad little story is a hell of a lot better than my attempt at schoolgirl pumps with tights. This look works much better with the modern bootie or multi-strapped sandal and the wide variety of fully-opaque tights that are now available. (In my day, the opaque tights were wore by 6-year-old ballerinas. I had to make do with dark pantyhose. Eek).
Here is one of my favorite looks from fashion week.
I totally guerrilla shot this photo. I am pretty sure she is an editor, what with the whole fashion-forward thing. See the thing socks OVER the skinny jeans INSIDE the open-toed booties. Frankly, I think this whole outfit is cute, but it's the footwear that makes it. To be honest with you guys, when I first saw open-toed boots and booties, I thought they were the worlds dumbest invention. Honestly, if it's cold enough to wear boots, it is probably too cold to expose your little piggies to the elements, but this compromise make anything possible.
Another fav was a look I already mentioned to you guys in my earlier post about Band of Outsiders and their collaboration with Loubotin. But to refresh the memory, here is another photo.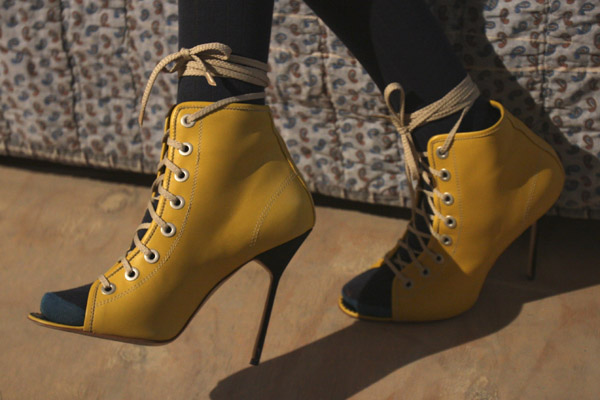 The lace-ups look great with the tights. The deliberate contrasting toe works really well with the look here.
I am including this last example just because the shoes are very cool. I know we saw them on the runways last year, but I can't remember where. At any rate, I think the burnt yellow and purple here works well together. It's a less-trendy look but still good. Killer heels too.
I guerilla shot another girl in an airport wearing the wide strappy white sandals over black tights. The photo was TERRIBLE, but the look was AWESEOME, so you will have to use your imaginations.
Picture THESE shoes (in white) crossed with black tights and a minidress. The look was awesome!
If you like these shoes, by the by, they are available on Net-a-Porter for $870, courtesy of Bottega Veneta.
I feel that this trend is evolving. I think it actually started out last year on the Spring 2008 runways. I was looking for good examples online and came across this melange from PeoplesChronicle.com.
Despite having admitted that I have done it myself back in the day, I am still not a big fan of the pantyhose with open-toed shoe look. In life, it may save you from frostbite, but on a runway, it's just lazy. For shame Calvin Klein, Burberry Prorsum, Donna Karan, and Valentino! (photos from those runways.)
What do you think? Are socks with sandals OK in your book?