Well, where I live, winter has set in in earnest. It hasn't been one of our worst, that's for sure. But it's no picnic either. We just got our first real accumulation of snow, which has now turned to the obligatory slushy, dirty, semi-melted/semi-frozen mess that happens when snow falls in a city. I've been living in my trusty Ugg's, which are quite literally the only shoes that keep my feet warm in cold weather (damn you, poor circulation!) But I've also been looking around me at what footwear other people are turning to to face not only the cold, but the wet, slushy ground, as well. And what has amazed me is that I've actually seen very few solutions that seem feasible to me.
To me, a shoe for this kind of weather needs to be several things:
durable–a non-slip sole with some treads is a must for not falling on your butt on icy sidewalks (your worn-out leather boots from a few years back might be OK to get slushed-up, but their smooth leather sole isn't going to do you any favors on slippery terrain)
water-resistant/waterproof–you don't want the slush seeping into your shoes. Sure, my Uggs aren't waterproof, but they are water-resistant and naturally wicking, which takes any water that may get in away from my tootsies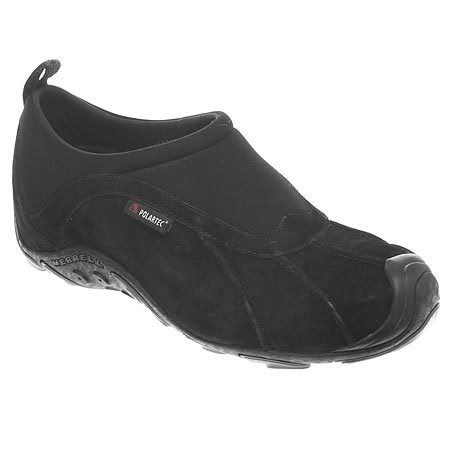 high-rising–I've seen so many people walking around in Merrell slip-ons (seen here), which are definitely a good solution as far as the first two variables go, but when you're climbing through mounds of snow at the crosswalk, your ankles are a vulnerable target for wetness and cold
I have to say that for this kind of shoe, I pretty much give up on fashion. Mostly they're being worn from one door to the next, and then being taken off just inside the doorway so they don't track dirty wet slush around inside. Here's a prime example of where comfort and function is going to come before style almost 100% in my book. All those ladies traipsing around in their high-heeled Timberland boots in the snow are beyond me. If I can find a nice-looking boot, great! But if it comes down to one or the other… function is where I'm going.
So, with those variables in mind, here are a few prime choices (in my opinion) for people who live in places where this sort of weather pops up from time to time.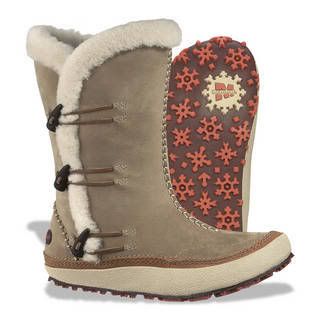 The Merrell Spirit Tibet high boot: Thinsulate, waterproof seal, traction sole–and cute, too! $125 at Altrec.com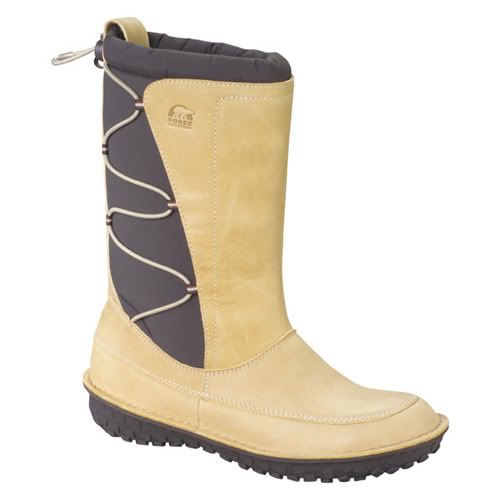 The Sorel Teslin boot: waterproof, Thinsulate, fleece lining, bungee cord collar, rated to -25 degrees F (-32 C) In black for $112 at Backcountry.com, white for $139 at Lord John's Footwear or honey or brown for $144 at Zappos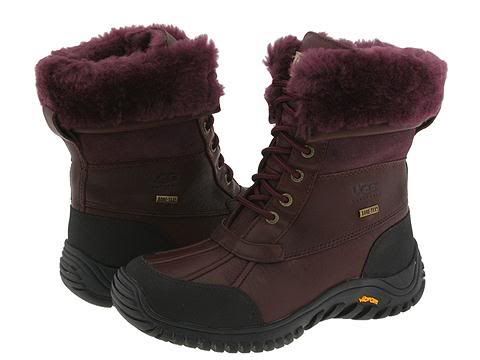 The Ugg Adirondack II boot: cozy sheepskin lining, Gore-Tex upper, Vibram sole (an excellent non-slip material) $189 at Zappos
With any of these boots, you should be able to navigate the treacherous slippery apres-snow city streets with ease, warmth, and comfort.