Who loves Justin Timberlake?
Ok, I'll admit that I kinda love Justin just a little. Not because he was in a boy band or because is soooooo dreamy or any of that. He's got personality. He a southern boy, he's a hilarious SNL host (he is willing to dress up in a giant styrofoam cup-a-soup!), he has had the same group of dancers since before people knew who JT was.
OK, that was cheesy. I am done now. For those of you that don't know, William Rast is Justin Timberlake and Trace Ayala's LA clothing line.
1. I apologize for the quality of the photos. I gained access to the show by some crafty measures so I was a ways away from the runway.
2. This little fringed booties the models wore were probably my favorite part of the collection and I could not get a shot of them. Grrrrrrr.
Most of the collection was denim and leather. I think it can be summed up in very few words: Americana meets Rhinestone Cowboy. The designers definitely got the "New America" vibe they were going for down. Frined leather jackets with plaid shirts and short-short chevron denim miniskirts were the look of the day. And who doesn't want the perfect leather jacket (I definitely do. And someday, someday I will be able to afford one). For the most part though, the looks were pretty basic. The attendees though, not so much.
Jessica Biel was, of course, front row.
As were Coco Rocha and Aubrey O'Day (Coco's expression did not change throughout the entire show. Aubrey…well Aubrey and her girls put on a show of their own, if ya know what I'm sayin…)
And Aisha Tyler was in the house too.
And these people. Who are these people? I mean I know I should know, but I can't remember.
It was definitely a celebrity-palooza at William Rast. Honestly, you see many a famous person at Fashion Week, but this show in particular was like a big party. And I am not the only person that thinks so! Anna Wintour and her daughter Bee Shaffer sat together in the front row, giggling like girls, when JT took the stage. Carine Roitfeld was also in attendance. The point is that EVERYBODY appears to love JT.
I feel like a paparazzo. I feel dirty. Just kidding It was AWESOME!
So here are my fuzzy photos of the clothes. If you want better ones, I suggest you go here or here.
Both the men and the wore the aforementioned fringed booties, which look a bit like this. They are fancified versions of those Minnetonka ones that have been so popular courtesy of Urban Outfitters.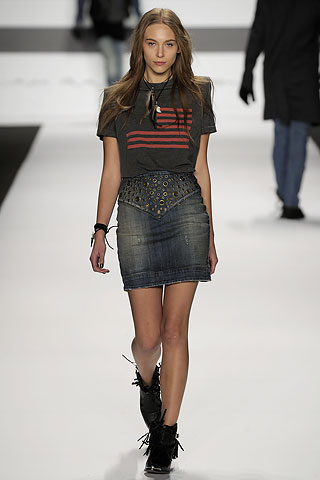 So what did we learn? The Americana trend that prominently features Ralph Lauren and Tommy Hilfiger has added a new label to its roster. JT can sell damn near anything. And hey, did you know that to market this label, they made mini-movies starring Justin as the fictional person William Rast and model Erin Wasson as his girlfriend. They remind me a little of that angry movie he did, Alpha Dog, or his character in Black Snake Moan. They are ll on the William Rast website if you are curious.