posted by: brianka in Betsey Johnson, Boots, Endless, Fall 2008 Shoes, Heels.com, High heels, Platforms, Pumps, Sandals, Shoe Trends, Slingbacks, Trend Alert, Zappos on December 18th, 2008
I have Christmas on the brain. Most holidays affect me this way. Of course, it doesn't help that everywhere  that I go (except for my car where there is the 'All Nickelback All the Time' local rock station) I am surrounded by Christmas music, Christmas decorations, and Christmas advertisements. 
Just this weekend, we put  up our Christmas tree and wrapped the kid's presents - so that they have time to really get excited about the upcoming holiday. (Did I say excited? They've been sleeping by the tree!)
Anyway, all ham dinner and pumpkin cheesecake plans aside, my attention has also turned to shoes that are so dolled-up that you will feel like they are gift-wrapping for your feet. 
Well, here ya go. Ribbons & Bows galore: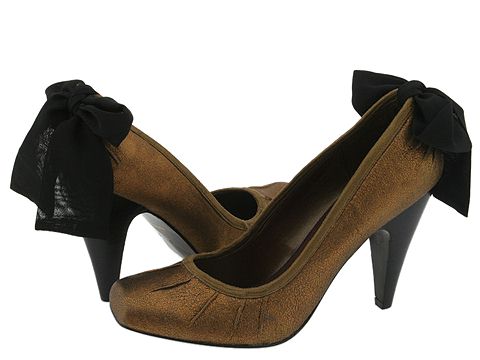 Type Z Noel $74.56 – $77 at Zappos in Bronze, Red, or Gold
(Appropriately named, don't you think?)
(What to say? These are simply stunning.)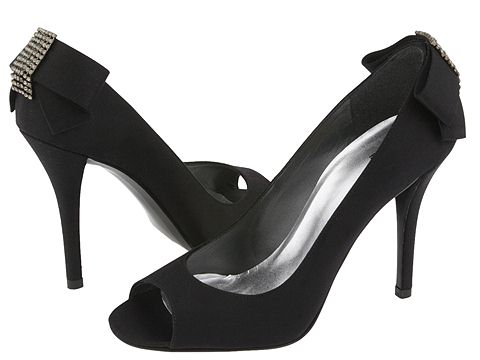 Stuart Weitzman Romance $199.12 at Zappos 
(Romantic? And how!)
Stuart Weitzman Solitaire $234 – $273.60 @ Zappos in Fuchsia, White or Black
(A pink Marilyn dream.)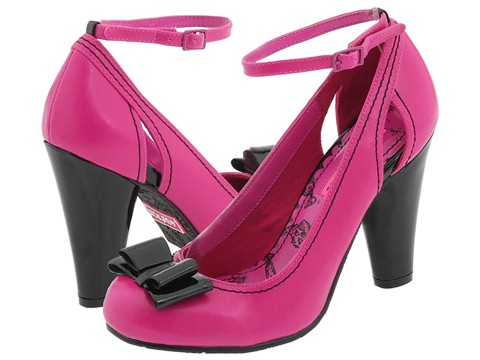 Betseyville Genna  $71.90 at Endless, $75.20 Zappos/$89.99 Heels.com
(Unwrap your inner Barbie Girl)
Betsey Johnson Rally $150 @ Zappos.com/$104.97 @ Endless
(Also available in pink with black ribbon. No secrets here; I love these.)
Coloriffics Sierra $66.50 @ Zappos (Several colors)
(Conservative with a touch of Glam, not an easy achievement.)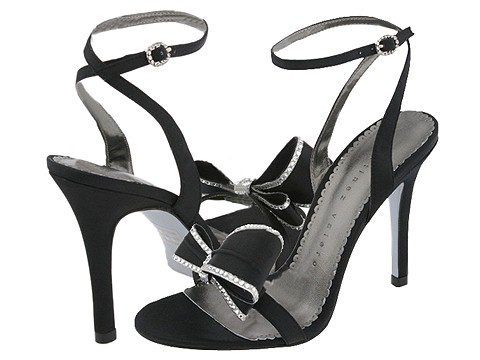 Martinez Valero Coca $106.16 – $117.97 @ Zappos on Red or Black, you can get the Coca in limited sizes of Black or Tan at Endless for $76.42.
(The perfect dare to the love of your life: 'Unwrap this.')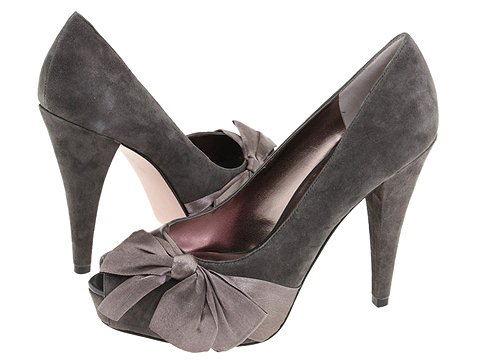 Paris Hilton Destiny $89.95 @ Endless / $93 @ Zappos ; many color options.
(With that wrap-around bow this doesn't even need a box; just pop it under the tree.)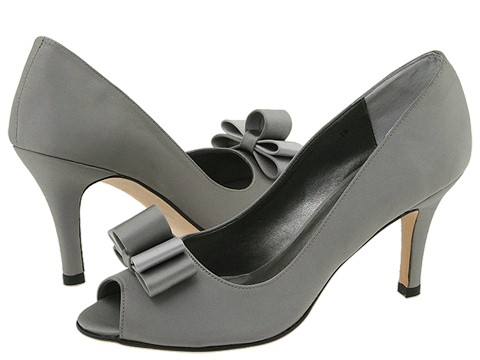 (I'm seeing more of these structured loop-bows lately; honestly, they're growing on me.)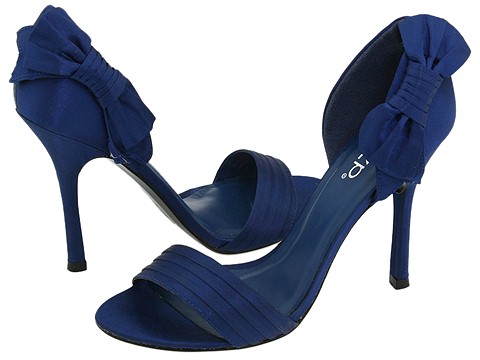 RSVP Rhea $58.50 in Navy @ Zappos, other colors are $69-$74
(Simple, Sexy, and Day-um do I love the Sapphire color on these.)
!
Kate Spade Gali $247.24 for the Forest Green, other colors are $347.95.
(Sweet, classic and Christmas-tree green.)
RSVP Afton $58.40 – 68 in four colors at Zappos.
(A sweet and slightly glitzy half-bow in Holiday Red)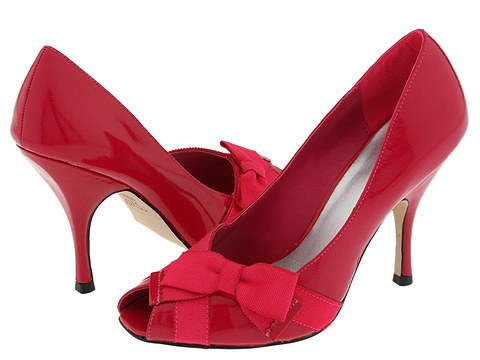 RSVP Judith in red for $60.80 at Zappos; bone and black are $58.40
(Another Pretty as a Package ribbon-wrapped style)
Gabriella Rocha Heaven in red for $50 at Zappos, other colors $39-$50.
(The polka dots are super cute. I love the wrap-around effect over the top of the hidden platform -
plus it also comes in a silver version that is quite adorable)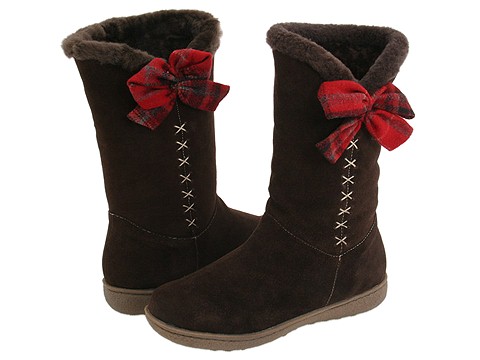 Type Z Kat  $89 at Zappos; in three colors.
(What can I say, it's 12 degrees outside, boots were going to wind up in here somehow.
 Plus how cute are those little bows?)
And, now that I mention 'Little Bows' I can't forget this style by Moschino:
Moschino CA16108C1P  RS0 $624 at Zappos.
(Come on, don't they make you smile just a little with that itty bitty gift box on the vamp?)
 And finally, not a bow, but So Perfect:
Beverly Feldman Fireball $92 @ 6pm.com.
(This one is not ribbons and bows, but how incredibly 'Holly and the Ivy' can you get?
 These babies just scream 'It's Christmas! Where's the eggnog?')
Gosh, now I'm wishing it was time to open up some presents!